vBookie Event

: Takanori Gomi vs Mac Danzig (UFC on FUEL TV 6)
This event is over.
UFC on FUEL TV 6: Takanori Gomi vs Mac Danzig
---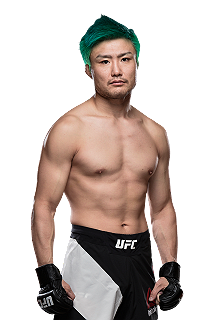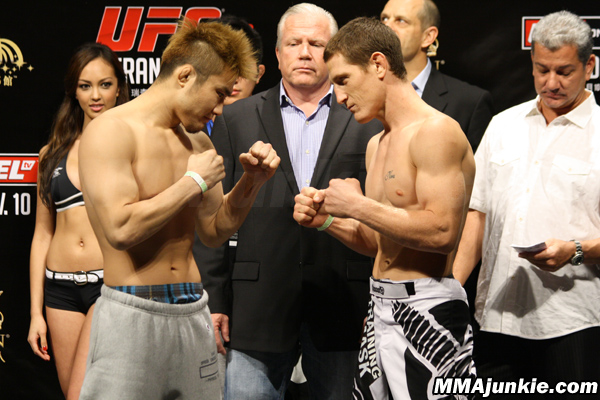 ---
Quote:
Round 1 - Referee Steve Perceval calls the fight. Danzig moving very well early s he refuses to offer a stationary target. Gomi leaps forward with a left, and Danzig kicks to the body. Gomi holding the center as Danzig moves around the cage. Danzig yet to really uncork anything, and Gomi lands a right as he falls away. Gomi talking in the cage as he moves forward, and he pushes into a clinch. The fight hits the deck, and Gomi settles into Danzig's guard. Danzig posts and pushes up to his feet. Danzig scores a nice right hand inside, but he's still getting outworked to this point. Low kicks from Gomi. Danzig returns fire. Final minute. Danzig looks confident in the center, and he looks for openings. Once comes with a takedown. He punches away as Gomi tries for a leg, and the round ends there. MMAjunkie.com leans toward Gomi, 10-9, despite the late offense from Danzig.

Round 2 - Danzig looks to be picking up the pace in the second. His nose is reddened from Gomi's left hand, but Danzig is now firing back with more volume and authority. Danzig grabs a clinch but lets it go when Gomi punches his body under the clinch. Gomi shakes out his arms and resumes the attack. He moves inside before backing away shortly after, but Gomi continues to be the one dictating positioning and staying busier. Gomi kicks the legs and loosens Danzig's mouthpiece with a combination. Danzig looks dangerous but uncertain as Gomi comes at him in an orthodox stance. Nice right hand from Gomi answered but two solid punches from Danzig, who then drops and shoots for a takedown. He scores it and settles into top position. Danzig latches on to a guillotine in a scramble and starts to squeeze. He switched over to the top before adjusting again and falling to his back. He can't quite wrap the guard, and Gomi lasts until the bell, but the late work form Danzig is enough to take that round on the MMAjunkie.com card, 10-9.

Round 3 - Fight starts quickly, and a right stuns Danzig and sends him to the floor. As Gomi rushes in, he eats a big upkick but still settles into his opponent's guard. Danzig wiggling underneath as he looks for a chance to either get back to his feet or latch on to a potential submission. However, it's Gomi who first attacks the neck. Not much there, and Danzig attacks the leg. A standing Gomi does the same from his feet before twisting to escape and settling back into top position. Danzig scrambles up at the halfway mark, but Gomi does sneak in one knee to the body. Gomi tries to hit a drop on his opponent but winds up defending from his knees on a reversal. He won't stay there for long as he gets to his feet and pulls away to reset with less than 90 seconds left. Still a tight fight, and Danzig has done great late work in the first two rounds. He lands a nice right, and Gomi smiles at him, dropping his hands and begging for more. Danzig throws a few punches before looking for a takedown that Gomi shrugs off. Gomi looks exhausted, but he's firing big shots. He yells at Danzig a bit more before the final bell. Both fighters raise their hands, but MMAjunkie.com sees it for Gomi, 10-9 in the third and 29-28 overall. Takanori Gomi def. Mac Danzig via split decision (28-29, 29-28, 29-28).
http://mmajunkie.com/news/31483/ufc-...ve-results.mma
---
Currently Active Users Viewing This Thread: 1

(0 members and 1 guests)
Posting Rules

You may post new threads

You may post replies

You may not post attachments

You may not edit your posts

---

HTML code is Off

---