vBookie Event

: Jared Papazian vs Tim Elliott (TUF 16 Finale)
This event is over.
TUF 16 Finale: Jared Papazian vs Tim Elliott
---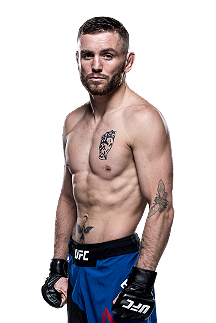 ---
Quote:
Round 1 - Referee Chris Tognini oversees this flyweight fight. Quick punches traded before Elliott takes the fight to the floor and latches on to a guillotine. Not there, and he lets go to reset. Papazian responds with several punches and a head kick that lands flush, but Elliott pushes through and takes the action to the floor. Fast pace to start. Elliott trying to advance to mount. Papazian recovers guard and tries to set up a triangle. Elliott slips out and resets. Elliott snatches a guillotine and trolls over as he looks to finish. He has the neck, and he tries hard to secure guard but can't quite get it. Papazian breaks free and pushes forward. As he does, Papazian lands a knee to the face just as Elliott was settling back on his rear end. Tognoni calls time, and the doctors come into take a look. Elliott staggers as he stands. He doesn't look good, but the fight carries on. On the restart, Elliott launches forward and drops Papazian. Incredible turn of events there. Elliott in top position. He's grinding away from the top with punches and elbows. Papazian scrambles up. Firefight on the feet in the final minute of a crazy first round. They clinch briefly before scrambling at the end. MMAjunkie.com scores the first for Elliott, 10-9.

Round 2 - Both fighters moving well to start as they fire punches from distance. Elliott moves inside and scores a slick trip takedown. He's in side control and looking to fire elbows. Papazian's nose bloodied, but he spins to his knees. Elliott breaks free and they reset on the feet. Elliott takes a deep breath and then shoots in again and takes the fight to the floor on a single leg. Papazian is right back to his feet. Halfway mark, and pace finally settling in. Leaping knee scores for Papazian. Lead uppercut follows. Elliott has his mouth open and is slowing down. High kick scores for Papazian. Round close into the final 90 seconds. Papazian picking up his striking output and landing. Elliott tries to shoot in to change the momentum, but Papazian shucks him off. Elliott answers with a front kick and a straight. He looks to be fading a bit. Strikes exchaned in the closing seconds, and Elliott scores another takedown and lands a few punches. Close round, but MMAjunkie.com leans slightly toward Elliott, 10-9.

Round 3 - Could be even heading into the third, so both fighters need to go. They scramble in a takedown attempt and Elloiott looks to twist an ankle. With their bodies facing opposite ways, it's a stalemate, and Tognoni stands them up. Both come out energized on the restart. Front kick fro Elliott and a straight to the head and Papazian drops. Elliott pounces and moves immediately to mount. Blood pouring from Papazian's nose. Elliott punching way. Papazian rolls to his knees, and Tognoni is on top of the action. Papazian moving but taking a lot of damage. Halfway mark of final round. Elliott thinking choke. He punches and punches until it opens up. Left hand goes under, but Papazian circles in and pops free. Papazian showing heart but getting handled on the floor. Elliot looks for the choke again in a bloody battle. Hooks are firm, and the arm is sliding under the neck. Elliott lets it go in favor of holding mount. Papazian slips free anyway and back to his feet. Big firefight before Elliott drives it to the floor again. Papazian running out of time. Papazian bucks and rolls, but Elliott stays tight until the bell. MMAjunkie.com gives the final round to Elliott, 10-9, awarding him the fight 30-27. Tim Elliott def. Jared Papazian via unanimous decision (30-25, 30-25, 30-26).
http://www.mmajunkie.com/news/2012/1...d-live-results
---
Currently Active Users Viewing This Thread: 1

(0 members and 1 guests)
Posting Rules

You may post new threads

You may post replies

You may not post attachments

You may not edit your posts

---

HTML code is Off

---