vBookie Event

: Vitor Belfort vs Michael Bisping (UFC on FX 7)
This event is over.
UFC on FX 7: Vitor Belfort vs Michael Bisping
---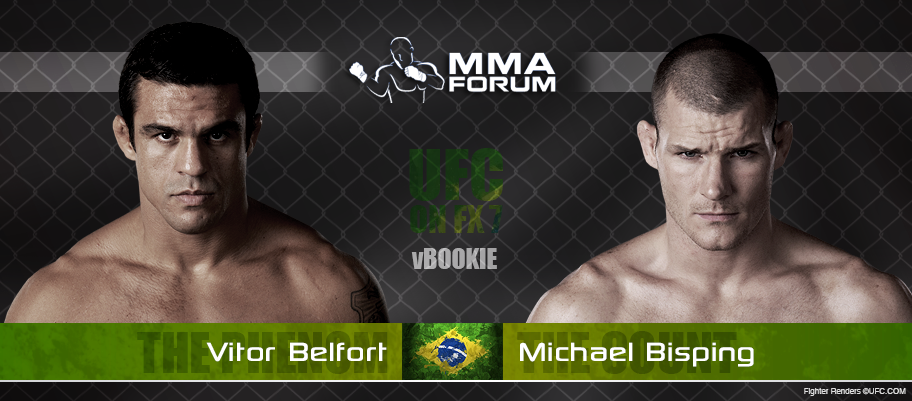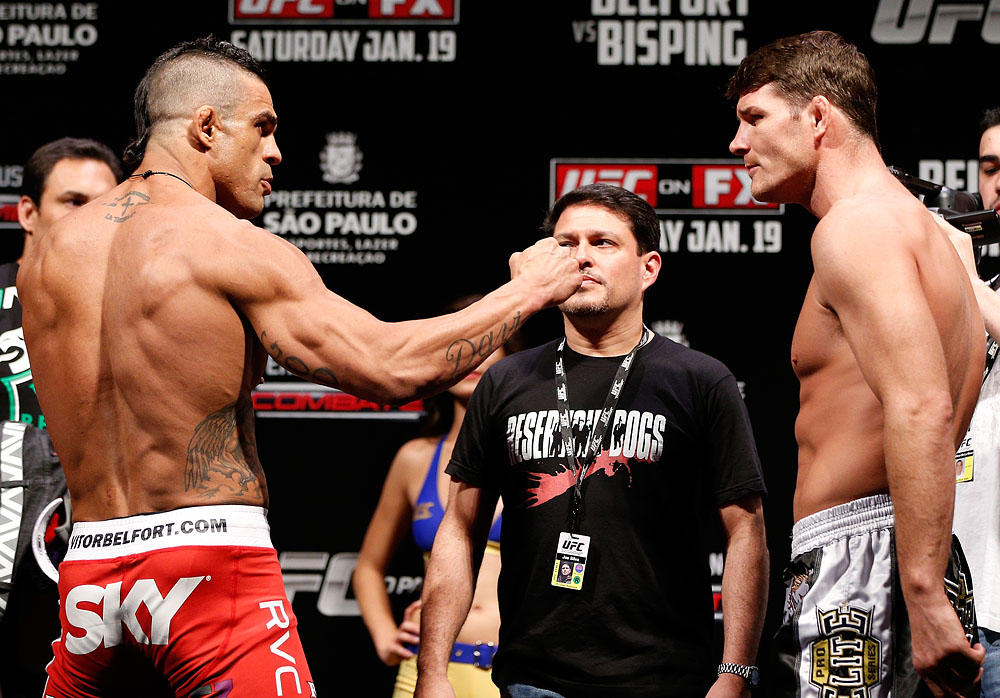 ---
---
Last edited by Killz; 01-02-2013 at

07:01 AM

.
these guys are both paying the same at my betting site, I have a feeling i'm going to make quite a lot of money off the next couple of cards.
---

Join Date: Oct 2009
Location: UK... Where the sun never shines.
Posts: 11,553
A big fat 1mil on the count!
I feel like Belfort is going to put Bisping to sleep. But I would never count Bisping out, he is always improving. I don't really like this bet much but i'd have to go for Belfort.
---
mad props: Toxic
Join Date: Oct 2009
Location: UK... Where the sun never shines.
Posts: 11,553
**** it. 5 million more on the Count!
After the weigh ins, I've made my decision.

1.5 million to The Phenom.
---
Marcus Aurelius: Tell me again, Maximus, why are we here?
Maximus: For the glory of the
Empire, sire.
Baked, not fried... the healthy choice.
50k on Vitor. Stylistically, I think he's a nightmarish match-up for Bisping.
Thanks to my boy Khabib i had 4.5 to throw down on Vitor. He better not embarass himself like Marquardt did.
---



Join Date: Jan 2013
Location: Canada's East Coast
Posts: 1,487
250K on The Count, I hope my head is right, my heart wants Vitor to win though

Sent from my HTC Ruby using VerticalSports.Com App
---
The poster formerly known as Cowgirl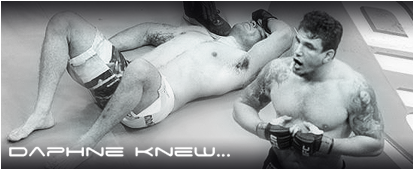 Thanks to Killz for the great sig!

Quote:
Round 1 - Referee Dan Miragliotta in the cage for the evening's main event. Crowd is electric and firmly behind Belfort. Southpaw Belfort circles to his left as Bisping moves cautiously forward. Low kicks from both fighters. Bisping keeping his hands high as they feel each other out. Belfort kicks to the body, but he has yet to let his hands go. Belfort pulls back on a leaping strike, and Bisping just misses a straight right. Wild kick missed by Belfort, but he's playing it cautious early. Halfway mark. Bisping lands two punches and eats an uppercut in return. Punches starting to fly with a little more frequency. Slapping kick to the body for Belfort. Another follows shortly after. Bisping landing a few straight punches, but he has to back away after a slight eyepoke. Belfort just misses a few heavy blows. Both fighters settling in now, and Belfort is opening up. High kicks catches Bisping's attention, and Belfort follows with a flurry. Bisping covers up and survives the onslaught, but MMAjunkie.com gives Belfort the round on the late work, 10-9.

Round 2 - Bisping looks fresh to open the second,but his face already shows the wear of some of Belfort's blows. Bisping pushing forward and mixing in low kicks with straight punches, but Belfort is pickig his shots. Left high kicks scores flush to the temple for Belfort, and Bisping falls to the floor. He tries to rally and defend, but Belfort pounces with hammerfists to seal the deal. Miragliotta on top of the action and calls the fight although he does hesitate briefly with his call. Vitor Belfort def. Michael Bisping via TKO 2nd round, 1:27.
http://www.mmajunkie.com/news/2013/0...d-live-results
---
Currently Active Users Viewing This Thread: 1

(0 members and 1 guests)
Posting Rules

You may post new threads

You may post replies

You may not post attachments

You may not edit your posts

---

HTML code is Off

---