vBookie Event

: Wagner Prado vs Ildemar Alcantara (UFC on FX 7)
This event is over.
UFC on FX 7: Wagner Prado vs Ildemar Alcantara
---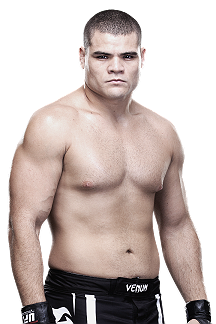 ---
Quote:
Round 1 - Referee Mario Yamasaki in the cage for this FUEL TV-broadcast prelim. Alcantara fighting up a weight class to get into the UFC, and he moves froward quickly. Traded high kicks. Prado lands two big early right hands. Alcantara answers with a knee and then drives into the clinch. Explosive early. Stalemate in the clinch, and Alcantara backs away. He returns to kicks to the body. Prado answers first low and then high. Two minutes in. Prado settling for a moderate pace. Alcantara eating some leather but does not look intimidated in the least. Crowd wants the two to pick up the pace a bit. Prado presses in with flailing punches and lands another lead right. Alcantara best weapon has been the nee so far, and he is mixing in an occasional jab. They don't have near the power that Prado's wildlead hooks do. Less than a minute, and Alcantara drives in for a takedown. He settles into his opponent's guard. Prado holds tight underneath, and Yamasaki brings them back up rather quickly. Alcantara kicks the body, and Prado returns fire with punches. They're swinging at the bell, and Prado lands a little late. Still, he takes the round on the MMAjunkie.com card, 10-9.

Round 2 - Southpaws pess forward again to start, and that lead right for Prado lands again. Straight left scores, as well. Alcantara drives in for a takedown, and Prado wraps a guillotine choke as he falls. He can't quite get to guard, and Alcantara pulls his head free. He tries his own choke attempt in a scramble, but Prado easily pulls free and settles into top position. Alcantara in half-gurd and leaning on his right side. Prado lands a few left hands fro the top. Alcantara spins and latches on to Prado's left lg. Alcantara working hard for a toe hold, and Prado tries to kick free. He looks to be panicking a little but. Alcantara still tweaking the hold, and he pulls the leg under his shoulder for a surprise kneebar transition and gets the tap. The middleweight picks up the win. Ildemar Alcantara def. Wagner Prado via submission (kneebar) - Round 2, 2:39.
http://www.mmajunkie.com/news/2013/0...d-live-results
---
Currently Active Users Viewing This Thread: 1

(0 members and 1 guests)
Posting Rules

You may post new threads

You may post replies

You may not post attachments

You may not edit your posts

---

HTML code is Off

---