vBookie Event

: Joseph Benavidez vs Ian McCall (UFC 156)
This event is over.
UFC 156: Joseph Benavidez vs Ian McCall
---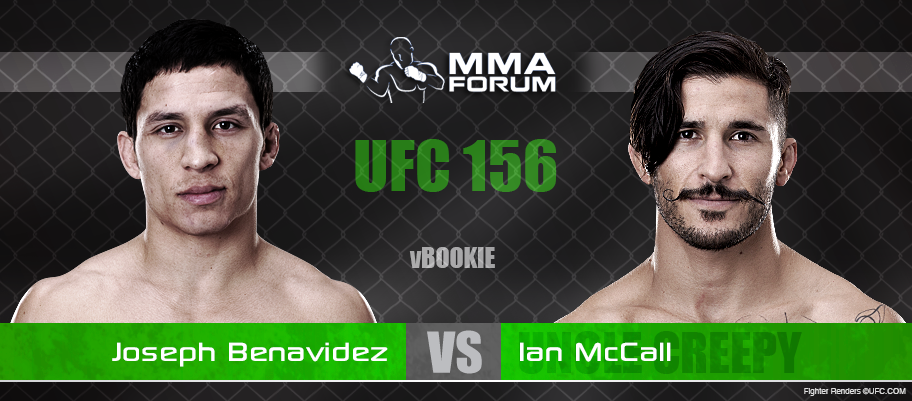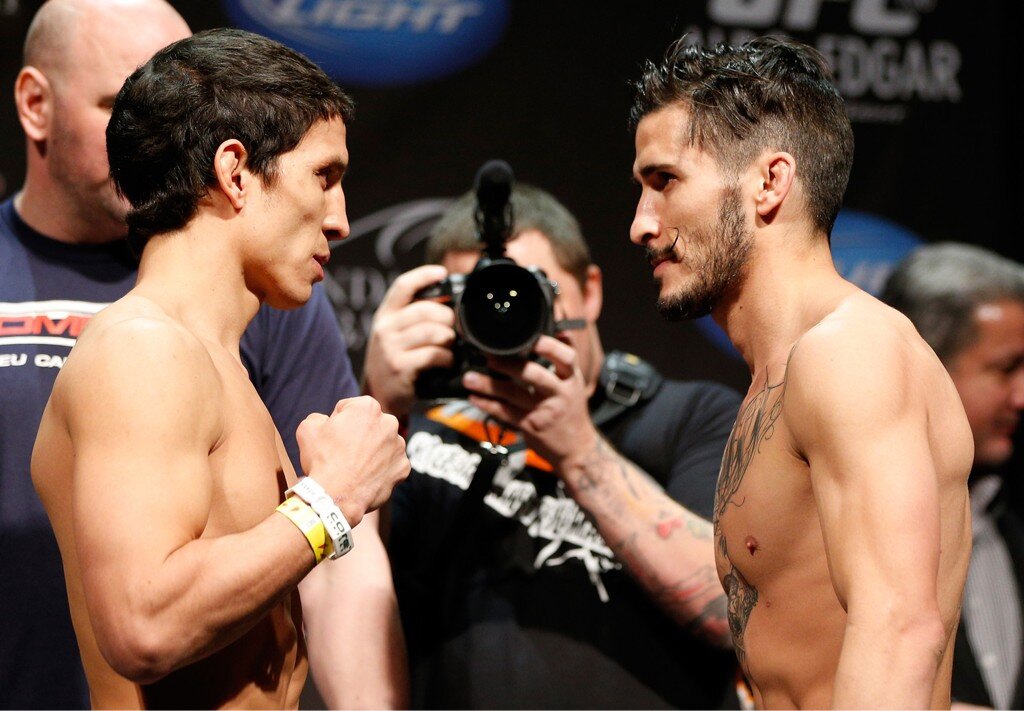 ---
Join Date: Jun 2009
Posts: 20,856
Joe B is taking this.
---
Creepy all day long. 500K will prob end up betting more.
Joe B Wan Kenobi is rightfully the favourite but Creepy is a steal at that price.
---

Great odds on Creepy. 2.5mil.
---

"There are three things all wise men fear: the sea in storm, a night with no moon, and the anger of a gentle man."
Join Date: Oct 2009
Location: UK... Where the sun never shines.
Posts: 11,553
2 big ones on Uncle Kreepy
Amazing odds for Creepy. I actually got $100 in Vegas down on Creepy.
Gotta support Uncle Creepy! 50k on the upset!
---
mad props: Toxic
Quote:
Gotta support Uncle Creepy! 50k on the upset!
If Creepy wins I turn my $100 into $320. How could I pass that up? My mom just happened to be in Vegas. It was meant to be.
Quote:
Round 1 - Referee Steve Mazzagatti in the cage as we go live on pay-per-view. Benavidez takes the center as McCall circles left. Low kicks traded to open before McCall looks for the takedown. Benavidez defends well and backs away with a crisp strike. McCall kicks hard o the body. Benavidez answers low to the cup, but we fight on. Benavidez controlling the center, and he lands with a left. McCall smiles, but that's probably because he's hurt. Benavidez lands low again, and McCall takes a brief break. Benavidez lands a counter right on the restart. McCall smiles again and waves his opponent in for more. Both flurry, and Benavidez lands another right hand. McCall asks for more. He gets it with a straight. Benavidez is on point. Low kick chops the leg again for Benavidez. McCall kicks the body. Those have been good weapons, but he eats a right hand shortly after. Benavidez loading up on power shots, but McCall actually does seem to be settling in a bit. Benavidez bleeding a bit from his hairline. Round ends, and McCall seemed to be getting comfortable late, but MMAjunkie.com gives Benavidez the round, 10-9.

Round 2 - McCall asks the crowd to come alive. Benavidez slips a bit on an early punch, but McCall can't capitalize. Benavidez kicks hard to he body. Benavidez really loading up with his right hand, but McCall is starting to slip it a little more frequently. Still, he's the aggressor. Blood again trickling down Benavidez's forehead. McCall moves in and looks for a takedown, but Benavidez defends it well. Low blow in the clinch, but the fighters address it verbally and move on. They break and reset. McCall looks comfortable and isn't taking much damage. Still, he's allowing Benavidez to throw more. He moves in on a scramble and gets superior position in a slick transition. He's on Benavidez's back. Less than a minute, and McCall looing to capitalize. Benavidez climbs up to his feet. McCall knees in the clinch against the cage. Round ends, and MMAjunkie.com gives it to McCall, 10-9.

Round 3 - Benavidez again takes the center and lands a crisp right. He chases with a flurry but McCall slips away. Benavidez stalking, and he kicks to the body before landing a counter punch up top. Benavidez still controlling the center and he lands another big kick to the body. McCall buckles to a kick to the leg. McCall's output is slowing a bit at the wrong time. He doesn't look tired, but he is hesitating a bit. Halfway mark, and McCall scores a key takedown. Benavidez doesn't stay on the floor, and we rest on the feet. McCall kicks, but Benavidez catches it. He looks very comfortable, and he's still moving forward. Final minute. Benavidez leaps forward with a left. Benavidez flurries up top but eats a counter to the body. McCall misses on a big right and eats a kick to his reddened torso. McCall shoots but is stuffed, and Benavidez lands a right hand to the chin. Round ends, and MMAjunkie.com sees the final round for Benavidez, 10-9, and awards him the fight 29-28. Joseph Benavidez def. Ian McCall via unanimous decision (29-28, 29-28, 29-28).
http://www.mmajunkie.com/news/2013/0...d-live-results
---
Currently Active Users Viewing This Thread: 1

(0 members and 1 guests)
Posting Rules

You may post new threads

You may post replies

You may not post attachments

You may not edit your posts

---

HTML code is Off

---