vBookie Event

: Yves Edwards vs Isaac Vallie-Flagg (UFC 156)
This event is over.
UFC 156: Yves Edwards vs Isaac Vallie-Flagg
---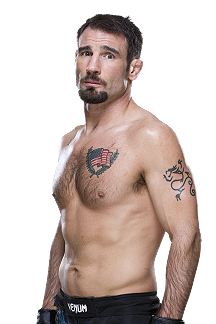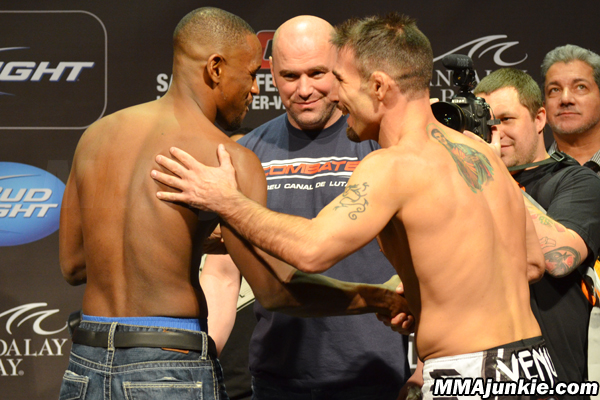 ---
Yves has got more experience and has fought the better fighters. Easy choice for me on this one. 50k on Yves, i'm feeling a tko.
---
mad props: Toxic
Im a big Yves fan. The dude is just fun to watch.
Quote:
Round 1 - Referee Yves Lavigne oversees this lightweight bout as we go live on FX. Vallie-Flagg pushes forward with a jab before launching a right hand and a kick to the body. Vallie-Flagg pushing forward quickly as Edwards tries to get comfortable. Clay Guida yelling instructions to Vallie-Flagg from the crowd behind press row. Pace settles a bit, and Edwards is finding some success with an uppercut. Edwards working the body as well. Vallie-Flagg coming straight forward and launching big straights up the middle. Into the clinch, and Vallie-Flagg drives a knee up the center. Edwards backs away ad lands a nice leg kick. They move into the clinch, and Vallie-Flagg lands a few uppercuts. Halfway mark. Big right hand for Vallie-Flagg, and he's landing with that shot. Superman misses for Vallie-Flagg, and Edwards grabs a Thai clinch, but he can't control in there.Edwards kicks the leg and body. He's explosive, but Vallie-Flagg is grinding well. Kicks and punches traded in the closing seconds with Edwards crisp from the outside but Vallie-Flagg looking durable inside. Close first, but MMAjunkie.com gives it to Vallie-Flagg, 10-9.

Round 2 - Vallie-Flagg again pushing forward, and he lands a right hand. He pushes Edwards against the cage. Nothing there, and he backs away. Edwards slips a punch and counters to the body. He seems to be settling into the pace, and they land big knees in a collar tie. Jab lands for Edwards as Vallie-Flagg kicks. Vallie-Flagg slowing just a bit, and Edwards flurries. Vallie-Flagg pushes forward into another clinch before Edwards circles off the cage and uses a single leg to bring the fight to the floor. Half-mount for Edwards. He pushes his opponent's leg down and takes side control. Edwards controlling on the floor, and Vallie-Flagg is flat on his back. Edwards steps over into full mount. Vallie-Flagg turns in, but Edwards gets both hooks in on the back. One minute remains. Edwards looking for the choke from a seated position. Vallie-Flagg controlling the wrist well in defense. He's trying to turn in and take top position. Vallie-Flagg does well to survive, and we go to the third. MMAjunkie.com gives Edwards the second, 10-9.

Round 3 - Vallie-Flagg touches loves and immediately looks again to push forward. He lands with a lead left, but Edwards starts again to chop the legs. Vallie-Flagg walking forward with the straight right. Edwards counters with a knee inside, but Vallie-Flagg moves back into the clinch and drives his opponent against the cage. Short punches and elbows inside for Vallie-Flagg before Edwards pulls away and resets in the center. Halfway mark. It's still Vallie-Flagg pushing orward with punches. Edwards counters well in spots. He shoots in on a leg, but Vallie-Flagg pulls it free. Vallie-Flagg pushing forward at all costs. Edwards looks to be tiring in the closing minutes. Vallie-Flagg not landing with much power, but his non-stop pressure is earning him this fight. Final minute.Edwards looking to retreat and reset, but there is simply no space at all. Traded punches to close, and MMAjunkie.com gives the final round to Vallie-Flagg, 10-9. It's going to come down to the first round, but MMAjunkie.com gives it to Vallie-Flagg, 29-28. Isaac Vallie-Flagg def. Yves Edwards via split decision (29-28, 28-29, 29-28)
http://www.mmajunkie.com/news/2013/0...d-live-results
---
He had em on the ground. He should have switched game plans against this bull dog of a fighter. Good fight Isaac. Thanks for costing me $500k. Just realized nobody put money on Isaac...haha!
---
Marcus Aurelius: Tell me again, Maximus, why are we here?
Maximus: For the glory of the
Empire, sire.
Baked, not fried... the healthy choice.
Currently Active Users Viewing This Thread: 1

(0 members and 1 guests)
Posting Rules

You may post new threads

You may post replies

You may not post attachments

You may not edit your posts

---

HTML code is Off

---