vBookie Event

: Cub Swanson vs Dustin Poirier (UFC on FUEL TV 7)
This event is over.
UFC on FUEL Tv 7: Cub Swanson vs Dustin Poirier
---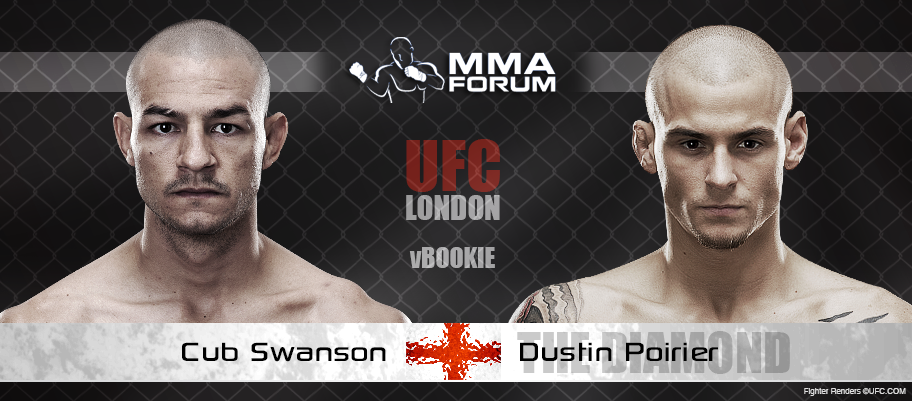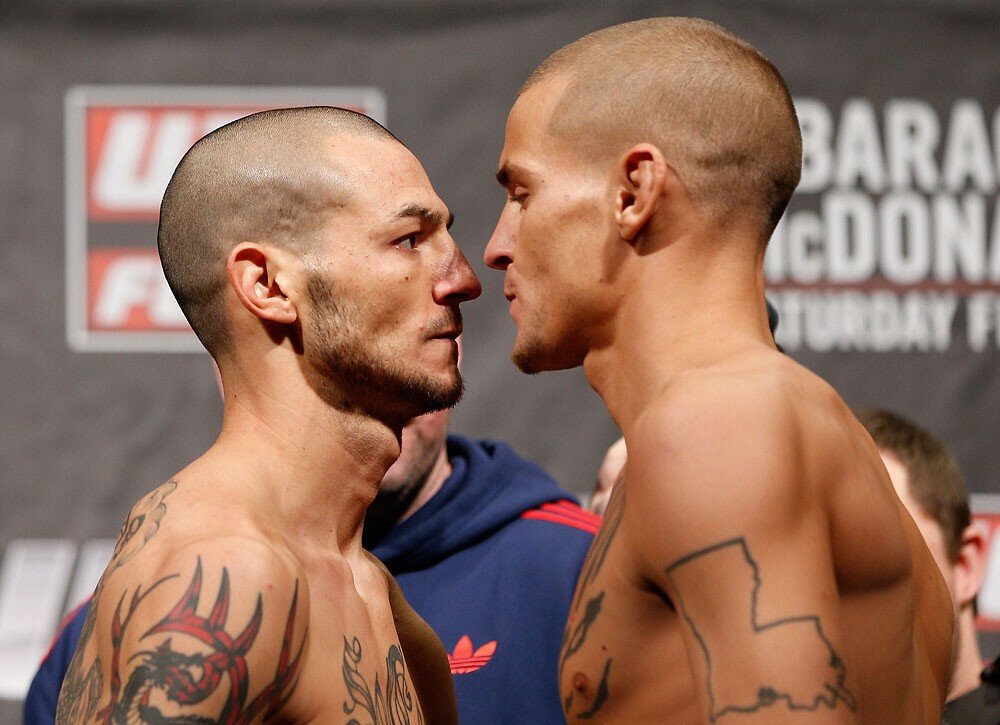 ---
Quote:
Round 1 - Referee Kevin Mulhall in the cage for the night's co-main event. Poirier with an early low kick. Swanson answers and lands a nice left hand that sees his opponent stagger. Both fighters loose and trading early. Swanosn busier and punctuating his shots verbally. Poirier drops for a takedown, but Swanson sprawls and backs away. Swanson looks a tocuh quicker in the early going. Both fighters trading low kicks. Swanson lands a lead left. Halfway mark. It's all standup so far. Swanson has a high kick blocked and then defends a takedown. Poirier pressing in with the clinch, and Mulhall tells him to get busy. Knees traded inside before Poirier backs away. Swanson digs hard to the body. Both come alive with a flurry. Swanson staggers his opponent with a right, but Poirier pushes forward again and gets the action to the floor. Poirier works from top position. Swanson with an open guard and slowing things down with his hands. He stands up and lands a knee as Poirier hangs on to his leg. Good round, but MMAjunkie.com gives it to Swanson, 10-9.

Round 2 - Swanson slips a little on a jab, but Poirier is too far away to capitalize. Swanson digs again to the body. Poirier stands his ground and counters up top. Swanson retreating well and delivering as Poirier chases him in. Poirier does score a crisp jab, but he misses with a follow-up right. Swanson's boxing continues to look crisp as he picks his opponent apart. Poirier pushes in for a takedown, but Swanson easily defends and pulls away. Halfway mark, and Swanson moving well and landing. He gets too confident and misses a spinning backfist that allows Poirier to dump him on the floor. He latches on to the right arm and uses an omo plata to stand up. Poirier's arm twists a little as his opponent holds it on the way up, but he's OK as Swanson pulls away. Poirier drives in again for the takedown, but Swanson defends against the cage. Poirier eventually slides off, and Swanson resets in the center. Round ends there, and while it was better, MMAjunkie.com gives it to Swanson, 10-9.

Round 3 - Swanson crisp again to open, but he slips a bit and Poirier moves inside after a flurry. It's even in the clinch, but as they break way, Poirier lands. He keeps walking forward and scoring, and Swanson looks fresh enough but is starting to taste some leather. He decides to change things up and take the action to the floor, dumping Poirier on his back and falling into his guard. Poirier tries to push his legs up for a submission, but Swanson alertly pushes it away and then scrambles to the back when Poirier rolls. Swanson looking for the choke. Poirier defending well, but he's go Swanson on his back. Swanson very high as Poirier tries to shake him off. As he starts to come free, he transitions over to mount in a slick transition and save of a position that looked like it was about to be bad. Poirier tries to wiggle free, but Poirier looks for an armbar. Not there, but Poirier doesn't give up, leaping for a punch in the final seconds. It doesn't land, and MMAjunkie.com gives the round to Swanson, 10-9, awarding him the fight 30-27 in a fight closer than score indicated. Cub Swanson def. Dustin Poirier via unanimous decision (29-28, 30-27, 30-27).
http://www.mmajunkie.com/news/2013/0...d-live-results
---
Currently Active Users Viewing This Thread: 1

(0 members and 1 guests)
Posting Rules

You may post new threads

You may post replies

You may not post attachments

You may not edit your posts

---

HTML code is Off

---