vBookie Event

: Che Mills vs Matt Riddle (UFC on FUEL TV 7)
This event is over.
UFC on FUEL TV 7: Che Mills vs Matt Riddle
---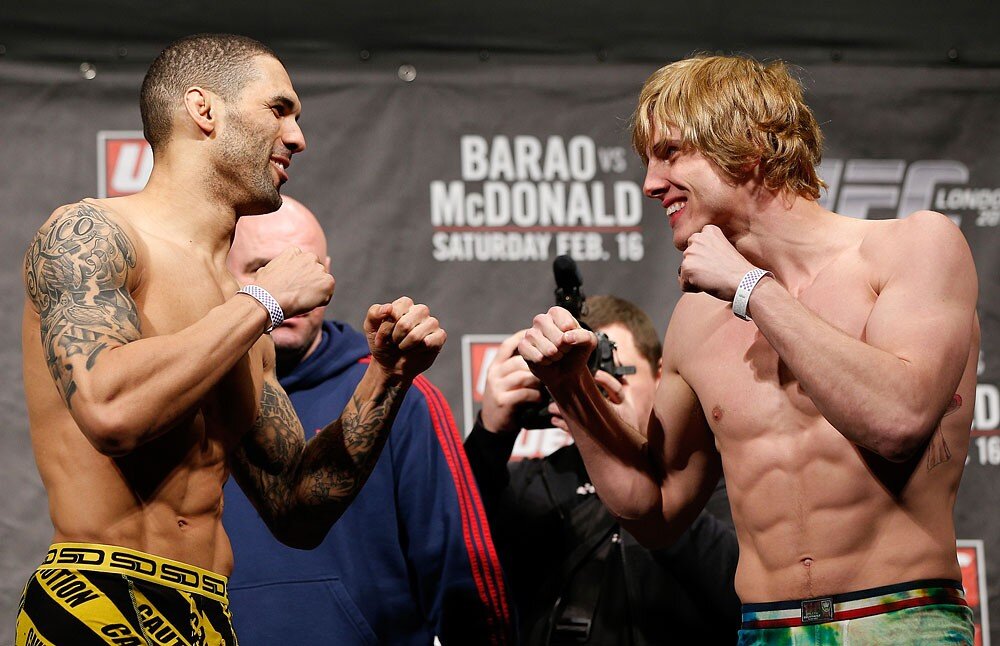 ---
Join Date: Oct 2009
Location: UK... Where the sun never shines.
Posts: 11,553
God I hate matt riddel. Not betting for che with those odds though.
Quote:
Round 1 - Referee Kevin Mulhall in the cage as we go live on FUEL TV. Riddle open with a low kick and then drives in on a leg ad Mils to strikes. Leaping knee from Mills' free leg in a slick move. Riddle keeps pushing in from the outside. He lets go of the leg and wraps the body. Riddle pulls Mills off the cage and drives him to the floor, but the Brit pops immediately back to his feet. Another knee inside from Mills, and he pulls away. Riddle blocks a high kick and then slips a punch to score another takedown. Mills scoots to the cage and pulls himself back to the feet, and Riddle pushes away. Low kick from Mills. Another. A third. Riddle lands a right and slips a flurry before clinching up. He wraps the body but can't score a takedown. He sticks with it and finally trips Mills to the floor. This time he's in firm top control. Short punches from the top. Less than a minute. Riddle grinds to finish, and MMAjunkie.com gives him the round, 10-9.

Round 2 - Riddle with a jab early before Mills scores with a crisp low kick. Riddle grabs the leg, and Mills wows the crowd with an aerial kick with his free leg. Unfortunately, that leaves him off-balance and on his way to the floor. Riddle controls immediately and looks for something from north-south. Not there, so he moves out to side control. Short punches come in, and Riddle walks his legs down, perhaps looking or mount. Mills trying to regain guard, but Riddle stays on top and dominates the position. Riddle not doing a lot of damage, but Mills is flat on his back and can't et free. He finally rolls to create a scramble, but Riddle slips on to the back and starts to look for the choke. Mills defends and turns in, but Riddle turns to stay in top in mount. Round ends there, and the British crowd doesn't necessarily like it, but it's Riddle's round, 10-9.

Round 3 - Mills works a low kick early. Right hand for Mills, and Riddle misses on a takedown. Mills tags him briefly, but he can't get a sustained attack together. Riddle closes the distance again and looks for a takedown. Riddle reaches under the leg and looks for a switch, but he just can't quite get free. Mills sprawls out and defends well again on a trip. Mills scrambling and looking to create some opportunities, but Riddle pushes him to his back and proceeds to grind away. Again, not a ton of damage being done, but it's unquestionable who's in control. One minute remains. Mills hits a sweep to roll into top position. Can he do something special? He postures and lands a few punches, but he stands and lets time tick away before backing away. He's got less than 30 seconds for a knockout. Unfortunately for him, Riddle moves back in and ends the fight in the clinch. MMAjunkie.com gives him the final round 10-9 and awards him the fight 30-27. Matthew Riddle def. Che Mills via split decision (29-28, 28-29, 30-27).
http://www.mmajunkie.com/news/2013/0...d-live-results
---
Currently Active Users Viewing This Thread: 1

(0 members and 1 guests)
Posting Rules

You may post new threads

You may post replies

You may not post attachments

You may not edit your posts

---

HTML code is Off

---