vBookie Event

: Terry Etim vs Renee Forte (UFC on FUEL TV 7)
This event is over.
UFC on FUEL TV 7: Terry Etim vs Renee Forte
---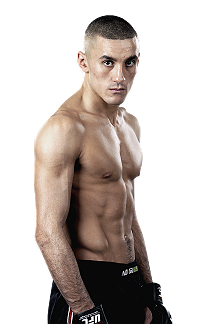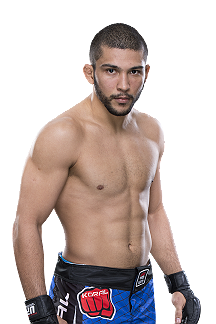 ---
Quote:
Round 1 - Referee Marc Goddard oversees the evening's final prelim contest. Forte rushes forward looking to strike. Etim avoids and settles in. He's looking to use his range as the crowd shouts his name. High kick glances off the head. Jab for Etim. Forte winging power sots, but he's not setting them up, and Etim avoids well. Forte catches a low kick and spins Etim off-balance. He follows up with punches and moves into the clinch. Etim defends well against the cage. Overhook from Etim, and Goddard calls for action. Two minutes left. Etim muscles his way off the cage. High kicks from Etim don't quite land flush. Forte catches another kick, but he can't quite land the big follow-up he'd like. We push back into the clinch. Knees from Forte. Big punch from Forte, and he pushes in for a takedown. He gets it, but Etim immediately back to his feet. Round ends with Forte pushing in from the outside. Close round, but MMAjunkie.com favors the late work for Forte, 10-9.

Round 2 - Forte again rushes forward. Etim defends well and snaps off a low kick. Short left scores for the Brit, but Forte walks through it and moves back into the clinch. He controls the positioning and drives in a few knees to the leg. Crowd chants for Etim. He's having trouble finding space. They break away, and Etim gets busy with his hands. So does Forte, and a left hand wobbles Etim. Forte sees it and pushes in with a flurry. Hooks coming from both sides, and Etim hits the deck. Forte tries to rush in with hammerfists and seal the win, but Etim scrambles underneath. He turns for a leg, but Forte feels safe and unleashes a few punches. One minute remains as Forte drops in a few more elbows. Punches follow, as well. Etim tying things up and slowing it down. Forte moves to mount and lands big punches that thud off the canvas. Round ends, and it's 10-9 Forte on the MMAjunkie.com card.

Round 3 - Forte fires in three left hands in the opening seconds. Etim absorbs it, and Forte pushes into the clinch. Etim defends well, and Goddard breaks them up. Etim lively on the restart, but it's Forte who pushes forward again and into the clinch. Forte not doing a lot of damage, but with two rounds in the bank, he's fine with this pace. He does score a trip and settle into top position at the halfway mark. Forte staying busy with short punches as Etim brings his legs up high. Forte pushes them away and resumes his attack. It's not a lot of work, but it's enough to keep him in top position and cruising n to a win. Etim secures the wrists, but he's got a closed guard and isn't threatening. Forte postures and lands a few punches as time winds down. Round ends, and MMAjunkie.com gives it to Forte, 10-9, giving him the fight 30-27. Renee Forte def. Terry Etim via unanimous decision (29-28, 29-28, 30-27).
http://www.mmajunkie.com/news/2013/0...d-live-results
---
Currently Active Users Viewing This Thread: 1

(0 members and 1 guests)
Posting Rules

You may post new threads

You may post replies

You may not post attachments

You may not edit your posts

---

HTML code is Off

---