vBookie Event

: Tom Watson vs Stanislav Nedkov (UFC on FUEL TV 7)
This event is over.
UFC on FUEL TV 7: Tom Watson vs Stanislav Nedkov
---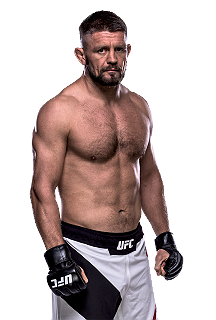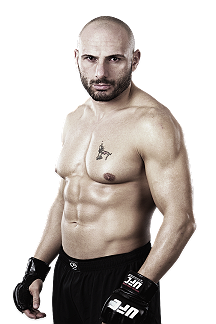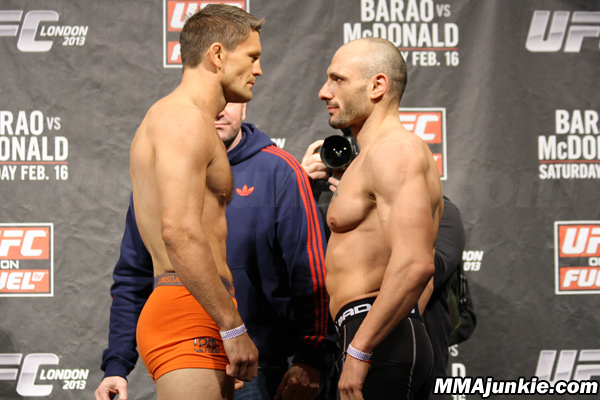 ---
Quote:
Round 1 - Referee Kevin Mulhall in the cage for this contest. Both fighters move forward quickly, and Nedkov pushes into a clinch. Watson gets underhooks and takes the outside position agains the cage. Knees traded inside. Mulhall calls for action. Watson pulls back and lands an elbow. He moves back inside but has a Thai clinch this time and is driving in elbows and knees. Two minutes in, and Watson pulls away before moving back to the clinch. Knees inside, and Watson looks strong early. Nedkov threatens with a few big punches, but Watson pushes through and back to the clinch. He lands a few more knees before backing away and kicking he body. Solid work inside from Watson as this round wears on. Nedkov gets some room and earns a trip to the floor. Fifteen hammerfists come in. Watson trying hard to reverse the course of the fight while Nedkov looks to finish. Watson survives and the crowd erupts, but MMAjunkie.com gives the round to Nedkov on the late flurry and near finish.

Round 2 - Watson starts by looking for kicks on the outside. Nedkov pushes forward and lands a big hook that wobbles Watson. He pushes forward and gets a takedown. Watson tries to crawl up to his feet, but Nedkov brings him down again. Watson rises again, and this time he circles off. Gutsy stuff by the Brit. He lands a few knees, but Nedkov grabs hod and drags the action down. Watson will not stay on the floor. He gets up and moves to the outsids. He lands a knee, buthe rushed forward and walks into a punch. Still, he's firing shots in the pocket. Incredible stuff here from Watson. Now he's the onw doing work. Elbows and knees. Nedkov is bleeding and hurt. One minute, and he's trying to hang on. Nedkov is a punching bag. Watson tags him over and over. Nedkov stumbles, and Watson follows with punches that earn the finish. Crowd explodes. Incredible work. Incredible fight. Tom Watson def. Stanislav Nedkov via TKO (strikes) - Round 2, 4:42.
http://www.mmajunkie.com/news/2013/0...d-live-results
---
Currently Active Users Viewing This Thread: 1

(0 members and 1 guests)
Posting Rules

You may post new threads

You may post replies

You may not post attachments

You may not edit your posts

---

HTML code is Off

---