vBookie Event

: Phil Harris vs Ulysses Gomez (UFC on FUEL TV 7)
This event is over.
UFC on FUEL TV 7: Phil Harris vs Ulysses Gomez
---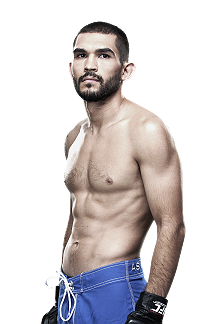 ---
Quote:
Round 1 - Referee Neal Hall in the cage for this flyweight fight. Gomez opens with a low kick that catches the cup, but we fight on. Both pawing jabs to start as they feel out range. Gomez continues with the low kicks, and Harris starts to look for counter rights up top. Gomez again catches the cup, and this time Harris takes a rest. Crowd boos the shot, and Gomez apologizes. Harris offers a warning, and we restart. Gomez chops the leg again. Harris catches a kick and trips Gomez to the floor. Harris pushes in briefly with pushes before backing away to reset. Two minutes into the round. Harris catches another kick before Gomez backs away. Harris winging right hands, but Gomez blocking well to start. Nice combination from Gomez as he's starting to loosen up. Harris still looking for right hands up the pipe. Final minute of the frame. Gomez shoots in on a takedown late, but Harris defends. They scramble against the cage, and Gomez winds up on top. Close round at the bell, but MMAjunkie.com leans slightly toward Gomez, 10-9. Very close round.

Round 2 - They engage quickly in the center. It's again Gomez working low and Harris hoping to answer with punches. Gomez kicks the body. Harris starting to chop the legs a bit now. Right hand scores for Harris, and he's looking very comfortable. Harris pumping a jab before leg kicks are traded. Gomez chops the legs and scampers away, and Harris taunts him, asking for his opponent to stand and trade. Harris catches a kick but can't score the sweep. Harris looks frustrated that he's chasing Gomez, but he does score with a right to the body. Gomez tries to shoot in but Harris defends it well and lands a knee before they separate. Final minute. Gomez leaps in with a knee before chopping the legs yet again. Harris is in the center, but Gomez is making him walk forward. Flying knee again from Gomez.He kicks the legs twice at the bell, and the two fighters touch gloves. Another close round. MMAjunkie.com leans slightly toward Gomez again, 10-9, but it's been very tight.

Round 3 - Harris very comfortable with his hand now, and he scores with a few crisp jabs. Gomez shoots in, but Harris again defends with ease. Low kicks cores again for Gomez, who is no bleeding a bit from his left cheek. Harris moving forward with punches, but Gomez staying just out of range. Flying knee again for Gomez, but it's short. Harris catches a kick yet again, but he can't capitalize. Nice right hand follows shortly after for the Brit. Two minutes remain. Fight has kept a familiar feel throughout. Jab for Harris. Right to the body. Harris really starting to let his hands go. Gomez staggers a bit and slips to the canvas, but he pops back up. Final minute. Jabs traded in the enter before Harris scores with a flurry. Right to the body. Final seconds, and crowd comes alive. Gomez misses a flying knee at the end. MMAjunkie.com gives the final round to Harris, 10-9, awarding Gomez the fight 29-28. However, rounds one and two were tight, and no score will surprise. Phil Harris def. Ulysses Gomez via unanimous decision (30-27, 30-27, 29-28).
http://www.mmajunkie.com/news/2013/0...d-live-results
---
Currently Active Users Viewing This Thread: 1

(0 members and 1 guests)
Posting Rules

You may post new threads

You may post replies

You may not post attachments

You may not edit your posts

---

HTML code is Off

---