vBookie Event

: Diego Sanchez vs Takanori Gomi (UFC on FUEL TV 8)
This event is over.
UFC on FUEL TV 8: Takanori Gomi vs Diego Sanchez
---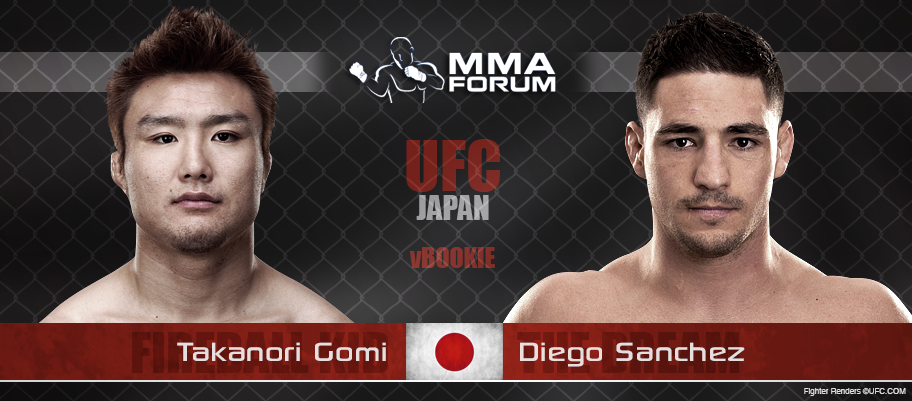 ---
---
mad props: Toxic
Quote:
Round 1 - Referee Marc Goddard oversees this contest. Sanchez rushes forward, and Gomi circles at distance. Gomi pawing a jab and closing the distance. Sanchez rushes forward with punches that miss. Gomi lands a crisp jab, and he seems very comfortable. Sanchez intense, and he kicks the cup. Only a brief break from Gomi. Sanchez pushes forward and shoots in on the restart. He looks to punch from the top, but Gomi scrambles up to his feet. Crowd chanting Gomi's name. Sanchez moving forward, but he's walking into a few stiff counters. Sanchez kicking the body, but Gomi countering well over the top. Gomi looks quicker to start. He digs he body and slips a counter. Sanchez walks through a knee to score a takedown. He pushes in and then drops for a leg. Gomi reacts quickly and pulls free. Sanchez returns to the kick. It's scoring, but Gomi is countering well. Clash of heads in the late going. Gomi kicks the body and is pushed to the floor at the bell. Fun round, and MMAjunkie.com leans toward Gomi, 10-9.

Round 2 - Gomi works a jab early. He digs again to the body. Sanchez retreating and striking. He flurries well but eats one counter. Sanchez looks for a takedown. Gomi kicks the leg. Sanchez returns fire and catches the cup. He gets a watning from Goddard. Gomi jabs again on the restart. back and forth in the pocket. Sanchez lands a big left, and Gomi fires right back. Sanchez stays on the fecnce and wants Gomi to come in. He won't, and they move to the center. Both fighters take turn trading straights. Gomi controlling the center. He kicks the leg. Sanchez circling. Gomi switching stances. Sanchez shoots in, but Gomi defends it and walks away. Final minute of the second. Entertaining stuff from both fighters. Sanchez kicks the body. Gomi flurries, and Sanchez runs forward with a flying knee that misses. Close round, but MMAjunkie.com leans very slightly toward Gomi, 10-9.

Round 3 - big cheers to start. Sanchez runs forward, and they engage in the center. Gomi measuring with his jab, and he punches to the body. Sanchez retreating and looking to counter. Gomi kicks the leg. It's a familiar feel. Gomi is holding the center and looking to box. Sanchez is circling on the outside and mixing i kicks as he looks to counter. Gomi continues to switch stances. He's talking to Sanchez, who responds by kicking the body. Sanchez shoots, but Gomi pushes it off. Sanchez slips on a high kick, but he gets away without taking any damage. Final minute. Crowd comes to life to cheer on an entertaining matchup. Sanchez kicks the body again but does not follow it up. Sanchez slips again but gets up. They flurry hard in the final 10 seconds, and Sanchez lands a few times, but it won't be enough. MMAjunkie.com gives the final round to Gomi, 10-9, giving him the win 30-27 in a fight far closer than that score would suggest. Diego Sanchez def. Takanori Gomi via split decision (29-28, 28-29, 29-28).
http://www.mmajunkie.com/news/2013/0...d-live-results
---

Join Date: May 2008
Posts: 11,322
Damn judges, everyone who voted for Gomi got robbed
Grrrr!
---
This one of those fights you just refund the credits to those who bet on Gomi. Worst decision in 2013 so far.
---
SMOOTH
Currently Active Users Viewing This Thread: 1

(0 members and 1 guests)
Posting Rules

You may post new threads

You may post replies

You may not post attachments

You may not edit your posts

---

HTML code is Off

---