vBookie Event

: Jon Manley vs Neil Magny (UFC 157)
This event is over.
UFC 157: Jon Manley vs Neil Magny
---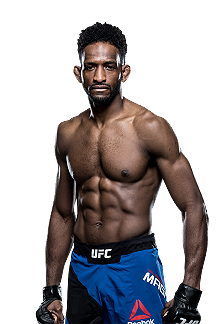 ---
Quote:
Round 1 - Referee Herb Dean oversees this welterweight fight. Pawing jabs to open as they feel out the reach. Manley moves inside on a clinch and pushes the action to the cage. He pulls Manley to the floor but can't keep the action there. The rotate positions on the cage, and it's Manley again pushing in from the outside. Magny defends well against the cage as Manley continues to look to take the fight to the floor. Two minutes in, and Manley is grinding for the takedown. Boos come in from the crowd. Manley trips his opponent to the floor, but Magny pops immediately back to his feet. Magny circles off and lands a few knees and then scores a right when they break. There are 90 seconds left. Magny with a stiff jab. A few more crisp punches land for Magny. He pushes inside and lands a knee before Manley circles off and looks again for the takedown. He can't get it, and he looks a bit frustrated. Magny tags him with a few more punches in the final seconds, and MMAjunkie.com gives it to Magny, 10-9, for his late striking attacks.

Round 2 - Magny takes the center and lands an early low kick. Manley starts pushing forward and striking, but Magny avoids it well and lands a few crisp counters. Manley again looks for the takedown, and this time he's able to take the action to the floor. He sets up on top position, but Magny hits a slick sweep from underneath and rolls to the top before rising to his feet. Manley again pushes in against the cage and looks for the takedown. Magny circles off and lands a few thudding knees to the body. Elbows score, too, and he backs away before pushing back and scoring a takedown of his own. Magny in side control. Manley does a good job of recovering half guard and nearly sneaks out the back door. Instead, he works up to his knee and then his feet. Manley continues to drop levels and search for the takedown, but Magny doing a great job of defending and then countering with crisp punches in bunches. Final minute of the round. They hit the deck again, and Magny is grinding away with punches. Knees score as Manley works to his feet, and the bell sounds. MMAjunkie.com sees it again for Magny, 10-9.

Round 3 - Magny looks relaxed to open the final round. Manley pressing forward, but Magny using his range well and striking from the outside. To his credit, Manley is trying to keep the pressure high, but he's struggling to land anything of consequence. Magny pushes forward as they clinch and scores a takedown. Magny looking to attack from the top, but Manley rolls and turns for an armbar. He was pressed against the cage but somehow sneaks in the legs and is threatening for the comeback submission. Magny remains very calm on top and patiently pushes the hips down and pulls his arm out of danger. Magny eventually gets it completely free and looks to punch from top. Magny lands several right hands from the top. He gets a warning for holding the cage, and Manley scrambles up to his feet. Final minute. Magny wraps the body and is still pushing for that takedown. It's not coming. Magny lands a few elbows inside, and Dean separates them for one last striking sequence. Crisp punches from Magny seal the result. Bell sounds, and MMAjunkie.com gives the final round to Magny, 10-9, awarding him the fight 30-27. Neil Magny def. Jon Manley via unanimous decision (30-27, 30-27, 29-28).
http://www.mmajunkie.com/news/2013/0...d-live-results
---
Currently Active Users Viewing This Thread: 1

(0 members and 1 guests)
Posting Rules

You may post new threads

You may post replies

You may not post attachments

You may not edit your posts

---

HTML code is Off

---