vBookie Event

: Yushin Okami vs Hector Lombard (UFC on FUEL TV 8)
This event is over.
UFC on FUEL TV 8: Yushin Okami vs Hector Lombard
---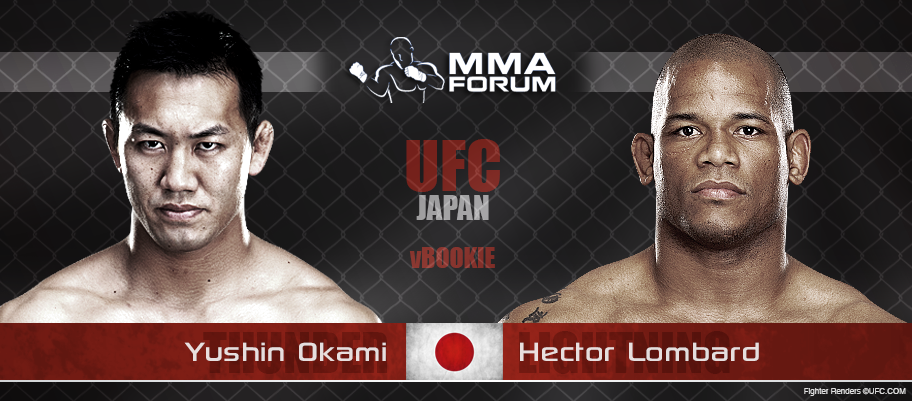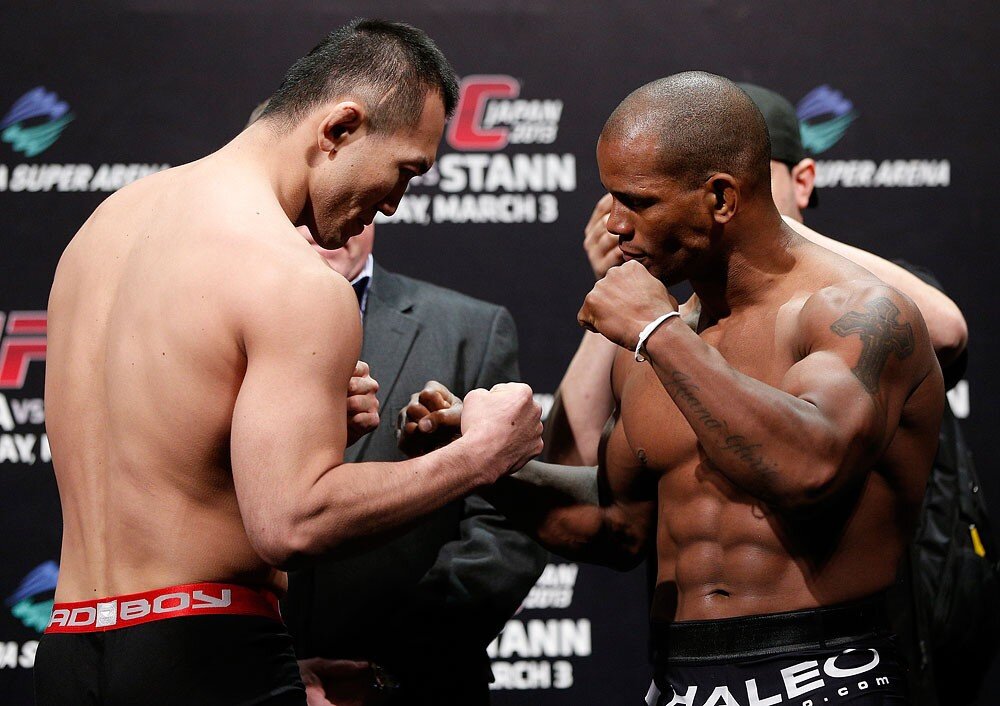 ---
50k on Okami by UD!
---
mad props: Toxic
shit those are horrible odds. I think Lombard wins but win those odds it's tempting to lay something on Okami.
yushin ftw! hello creds from a late-placed bet, uh huuuh uh huuuh
---
Everybody good, plenty of slaves for my robot colony?
Quote:
Round 1 - Referee Herb Dean in the cage for this key middleweight matchup. Lombard rushes forward and looks to stay right in Okami's face. He lands an early left. He's definitely looking to blitz tonight. Okami retreating and trying to fins space. Okami kicks the cup, but Lombard keeps fighting. Lombard also kicks the cup and Dean starts to move in, but Okami catches it and scores a takedown. Can't hold Lombard there, and they reset on the feet. Lombard still moving forward, but Okami is trading with him in the pocket. Okami lands a stiff left. Lombard just winging huge bombs. He lands two, but Okami moves inside and takes the fight again to the floor. Okami in top position, and he control the body as Lombard works from half-guard. Lombard exposes his back but scrambles up to his feet. Okami can't take the position, but he does keep tight to the body and press Lombard to the cage. Knees traded inside. Round ends there, and MMAjunkie.com gives it to Okami, 10-9.

Round 2 - Lombard again moves quickly to the center. Okmai with a low kick, and he retreats. Lombard rifles off power shots, but Okami is managing them well and answers with a knee up the middle. Okami looks to be gaining confidence. Jab pops Lombard's head back. Lombard looks a little bit frustrated. He's trying to puhs forward, but Okami is handling the aggression well. Okami drops a level and wraps a leg. Lombard tries to counter and pull free, but Okami continues to drive forward and eventually gets his opponent to his back. Half-mount for Okami. Less than two minutes. Okami not getting much done from the top, but he is controlling well. Lombard stick on his back, and Okami slides over into mount. He postures up and looks to punch, while Lombard trying hard to hold him down. Round ends with Okami on top, and MMAjunkie.com gives him the round 10-9.

Round 3 - Lombard fires big punches to open. He knows he's behind, and he's firig punches. Left scores on the chin, and Okami is int rouble. He scrambles to cover up while Lombard blasts away with punches. Okami retreating, and he's in survival mode. Lombard paces himself and may wind up letting Okami off the hook. Okami shoots in, but Lombard defends it and pushes Okami to his back. It's not Okami holding tight and trying to prevent Lombard from getting room to strike. OKami scoots up a knee, but Lombard transitions around the back and looks to throw more punches. Okami turns and spins and winds up falling to his back. Lombard stands and lets Okami do the same. Collar ties for both before Okami backs away. Okami dives for another takedown. It doesn't come, but he flops willingly to his back and lets Lombard follow. Okami holds tight. One minute left. Lombard punches the ribs, but Okami has survived. Lombard had a chance but let it get away. He'll take the round on the MMAjunkie.com card, 10-9, but Okami takes the fight 29-28. Yushin Okami def. Hector Lombard via split decision (28-29, 29-28, 29-28).
http://www.mmajunkie.com/news/2013/0...d-live-results
---
Currently Active Users Viewing This Thread: 1

(0 members and 1 guests)
Posting Rules

You may post new threads

You may post replies

You may not post attachments

You may not edit your posts

---

HTML code is Off

---