vBookie Event

: Reza Madadi vs Michael Johnson (UFC on FUEL TV 9)
This event is over.
UFC on FUEL TV 9: Reza Madadi vs Michael Johnson
---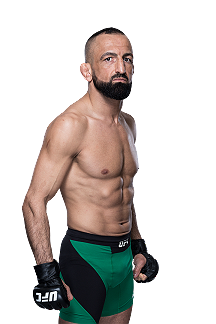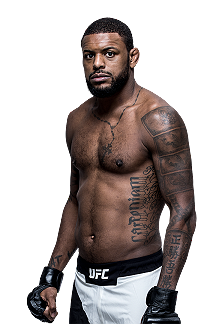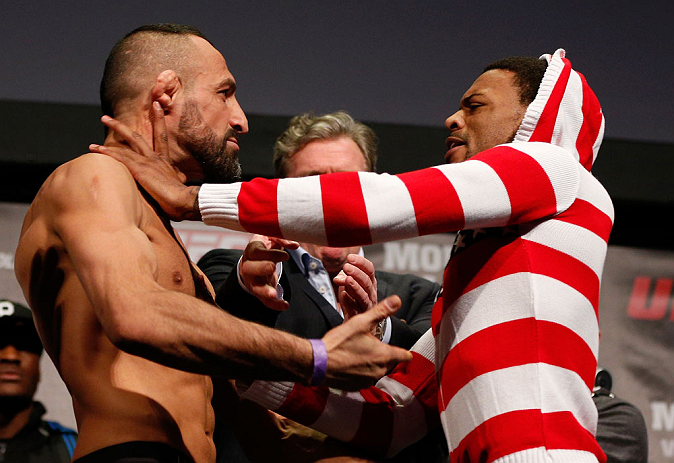 ---
Quote:
Round 1 - Referee Marko Gyllenland in the cage for the night's final prelim. Crowd chants "Reza!" Johnson loose early and looks comfortable in the center. He kicks as Madadi shoots in. Madadi can't hold the clinch, and Johnson backs away.Johnson kicks the legs and lands a jab. Madadi with a right hand. He pushes in again, but Johnson easily pushes him away. Neither fighters imposing their will just yet. Johnson does flurry with three punches that score. Madadi jumps in on a single-leg attempt. It takes some effort, but he finally drags Johnson to the floor. Madadi struggles to gain position, and he decided to fall back for an attempt on the leg. Nothing there, but he works into a guillotine as they scramble. That also fails, and Johnson takes the top position. Less than two minutes. Madadi tries to turn for an arm. Johnson on top, but he's not scoring any points. Madadi turns for an omo plata. It doesn't work, but he hits the sweep. Johnson rolls free. They stand, and Johnson lands a huge knee that drops Madadi. He moves in for the finish as Madadi desperately scrambles for a takedown that won't come. Luckily for Madadi, the bell sounds before Johnson can finish. MMAjunkie.com thinks Johnson stole the round late, 10-9.

Round 2 - Johnson again looks very comfortable as he looks to strike. However, Madadi works inside and scores a takedown. He tries to take the back, but Johnson turns in. Madadi in mount, and he has the left arm pinned. He strikes from the top. Johnson spins underneath and pushes to his feet. Madadi tries to secure the neck but can't, and we reset on the feet. Madadi quickly in for another takedown. This time Johnson has guard from his back. Madadi racking up points with time on top and grinding away from the dominant position. Johnson looking to escape, but Madadi has a firm base on top. Final minute. Madadi not doing heavy damage from the top, but he's also clearly controlling the action. Round ends there, and it's all Madadi on the MMAjunkie.com card, 10-9.

Round 3 - Johnson with an early high kick, and Madadi immediately moves in on his leg. Johnson desperately tries to scramble free, but Madadi pushes him to the back and sets up in side control. Johnson turns briefly but can't find room. Madadi sees the neck and grabs it. Choke is in. Johnson is stuck and has to tap. Madadi climbs out of the cage in celebration as the crowd foes nuts. Reza Madadi def. Michael Johnson via submission (anaconda choke) - Round 3, 1:33.
http://www.mmajunkie.com/news/2013/0...d-live-results
---
that was a really fun fight!
---
mad props: Toxic
Currently Active Users Viewing This Thread: 1

(0 members and 1 guests)
Posting Rules

You may post new threads

You may post replies

You may not post attachments

You may not edit your posts

---

HTML code is Off

---