vBookie Event

: Urijah Faber vs Scott Jorgensen (TUF 17 Finale)
This event is over.
TUF 17 Finale: Urijah Faber vs Scott Jorgensen
---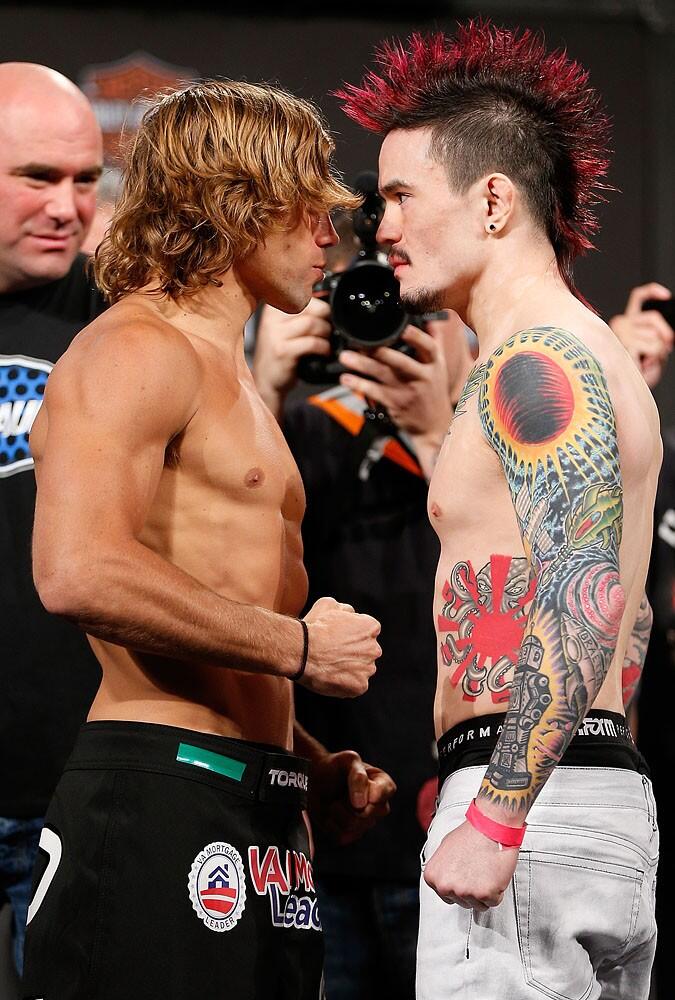 ---
I've been a fan of both since the WEC days and would've gone California Kid with better odds but had to back Young Guns who has a way better shot than given credit for by oddsmakers.
---
Quote:
Urijah Faber vs. Scott Jorgensen - Round 1 - Faber with a few quick punches and he has Jorgensen in a front headlock. Jorgensen turns him against the cage. Faber turns him back. Jorgensen with a takedown now. Faber gets up and pulls off a nice reversal to slam Jorgensen down and Faber had the back but got up. Faber with a hard elbow. Faber with some hard shots and he takes the back again. Faber on the back landing some really big shots and Jorgensen gets up and Faber tries for a guillotine. Faber really working for the choke and Jorgensen manages to scramble his way out of it. Faber ends the round on the back again. 10-9 Faber.

Round 2 - Faber cracks Jorgensen to the cup and there's a break in the action. Jorgensen throws a few jabs.Hard leg kick from Jorgensen now. Faber with a knee and a flurry of punches. Faber with a few good punches again, Jorgensen with a nice little counter shot. Hard knee by Faber. Faber with another takedown. Jorgensen uses a kimura to escape and get to his feet where he lands a punch. Faber cracks him a few times. Jorgensen has landed a few times now. 10-9 Faber.

Round 3 - Jorgensen popping some punches and Faber lands a hard knee. Jorgensen is trying to come forward a bit more. Right hand by Jorgensen gets in. Faber to the body, then two punches to the face, and another big right hand. Faber with a head kick that is blocked. Jorgensen with a nice uppercut in the clinch. Jorgensen gets inside and has the back standing. Faber escapes and lands a left hand. Knee and a right and then a left by Faber and Jorgensen with a left hand. Hard elbow in the clinch by Jorgensen. Jorgensen is picking it up now. Faber ith a takedown. 10-9 Faber but Jorgensen did better that round.

Round 4 - Jorgensen really coming out hard with some combos and Faber cracks him with a right hand. Faber with a left and then he stuffs a takedown attempt. Uppercut by Jorgensen. Faber with a flurry of strikes again. Jorgensen with a big elbow and a punch in the clinch. Faber with a takedown and he is taking the back and has the body triangle. Faber looking for a rear naked choke and he locks it in and it's over. Very good finish to a competitive fight. Urijah Faber wins by submission (rear naked choke), round 4.
http://www.bloodyelbow.com/2013/4/13...adcast-results
---
Currently Active Users Viewing This Thread: 1

(0 members and 1 guests)
Posting Rules

You may post new threads

You may post replies

You may not post attachments

You may not edit your posts

---

HTML code is Off

---