vBookie Event

: Sam Sicilia vs Maximo Blanco (TUF 17 Finale)
This event is over.
TUF 17 Finale: Sam Sicilia vs Maximo Blanco
---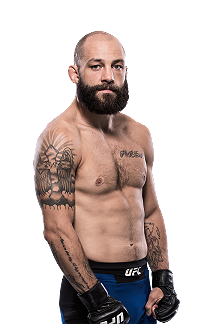 ---
Quote:
Round 1 - Referee Kim Winslow oversees this featherweight matchup. Blanco switching stances and moving his hands before firing off a high kick that sees him slip to the floor. Sicilia moves to the floor to meet him, and he tries to slip around to the back as Blanco looks to control the legs. Neither can capitalize, and they scramble up to reset. Blanco takes the center as Sicilia circles on the outside. He launches a huge uppercut that just misses. THey stand and trade for a bit. Blanco popping a crisp jab, Sicilia winging hooks and low kicks. Halfway mark. Blanco still switching stances and baiting Sicilia with his hands down. Blanco short on a spinning kick to the body. Sicilia picks up the pace with his punches. Blanco moving well and popping his jab. Sicilia looking to land a big right hand that just hasn't quite scored yet. Round ends, and MMAjunkie.com sees it for Blanco, 10-9.

Round 2 - Blanco busy again to open, but Sicilia answers back with more power hooks that drop his opponent. Blanco crawls up, but Sicilia drives forward and scores a takedown. Blanco immediately back up, but Sicilia stays tight and looks for another takedown. Blanco waned for repeated grabs of the fence. Sicilia lets go and lands a punch on the break. He scores again as he press forward, lunging with leaping hooks. Blanco answers with a crisp right, and they trade in the pocket against the fence. Both land flush in a great exchange. Blanco brings the fight to the floor and moves immediately to mount. He looks for an arm-triangle choke, but it's not there. He lets it go, ad Sicilia patiently works up to his feet. Both fighters bleeding from the earlier exchange. Sicilia with power in his shots. Blanco lands a kick but then walks into a flurry of punches. both fighters again firing power shots in the final minute. Stiff jab for Blanco. Bell sounds on a fun round, and MMAjunkie.com leans again toward Blanco, 10-9, though it was a close one.

Round 3 - Crowd comes alive to open the third, ad the fighters respond. Big swings again to open the final frame. Big hooks traded. Sicilia lands first, but a staggered Blanco comes right back with his own. Incredible action. Sicilia shoots in, but Blanco stuffs him and instead presses forward. Sicilia resists and climbs to his feet. Working in the clinch, and Sicilia has an underhook, but Blanco defends well against the fence. Blanco ducks under and nearly moves to the back, but Sicilia pulls free and punches him as they break. Sicilia's left eye closing, but he's looking to brawl. Two minutes remain. Blanco moves again to the center and fires off low kicks. Sicilia pushes in on a takedown, but Blanco expertly sprawls out and transitions around to the back. Sicilia to his knees and then to his feet. He pus a hand down and seems to take an illegal knee. They fight on, and Sicilia crawls to his feet. He lunges in desperation, but the bell sounds. Incredible fight. MMAjunkie.com leans again toward Blanco, 10-9, giving him the fight 30-27 in a fight much better than that score indicates. Great heart from both in an early "Fight of the Night" candidate. Maximo Blanco def. Sam Sicilia via unanimous decision (29-28, 29-28, 29-28).
http://www.mmajunkie.com/news/2013/0...d-live-results
---
Currently Active Users Viewing This Thread: 1

(0 members and 1 guests)
Posting Rules

You may post new threads

You may post replies

You may not post attachments

You may not edit your posts

---

HTML code is Off

---