vBookie Event

: Tim Means vs Jorge Masvidal (UFC on FOX 7)
This event is over.
UFC on FOX 7: Tim Means vs Jorge Masvidal
---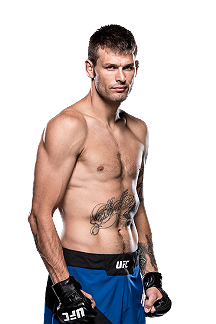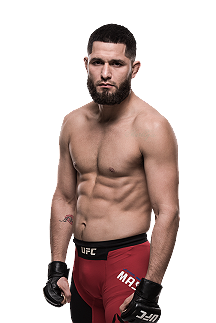 ---
Quote:
Round 1 - Referee Mike Beltran in the cage. Means takes the center and opens with a front kick. Masvidal feeling out the distance. Means front kick again. He snaps a kick to the body. Masvidal right lands flush. Means returns fire. Bodyshots traded. Kicks to the body exchanged. Means still walking forward, but Masvidal answering with big right hands. Means misses a spinning strike. His nose is busted up a bit. Masvidal just misses on a wild right hand. Masvidal's straight right is scoring. Means continues to walk forward. Masvidal drops for a takedown and elevates Means before dropping him down and sliding to the back. Means walks up and peels Masvidal off wit the cage. They break and reset. Means misses an elbow. Means looks for a takedown, but Masvidal stays upright and flurries. Means is game in the pocket, and they end with traded punches. MMajunkie.com fives the first to Masvidal, 10-9.

Round 2 - Means again pushing forward. Masvidal setting up and looking to counter. As they trade shots, Masvidal drops a level and looks for the takedown. Masvidal stays upright momentarily, but a second effort gets the result. Masvidal can't take advantage of the position, and they crawl up to the feet. Masvidal easily pushes inside again and scores another takedown. He lands a few punches and avoids a triangle attempt. Means spins to his knees, and Masvidal works on to his back. Means turns in, but Masvidal is there for another takedown. Punches and elbows from the top. Means trying to be active from his back, but Masvidal riding heavy and landing punches in spots. Means elbows form his back, but Masvidal ups the volume again. Means with his feet on the cage, but Masvidal continues to tee off and score points. Round ends, and MMAjunkie.com has it for Masvidal, 10-9.

Round 3 - Means walks quickly forward to start the round. He lands a clean left hand. Means picking up the pace and finding some success. Another straight lands. Means behind but scrappy in the third. Masvidal looking for a takedown. He gets it, but Means immediately back to his feet. Masvidal is bleeding, and it's all over both men. Masvidal drives in with another takedown. Means firing elbows from his back. Masvidal controlling the positioning and landing a few punches and elbows of his own. Time winding down for Means. Masvidal backs away briefly but punches right back into his opponent's guard.Means rolls for a kimura. He misses it but lands the sweep. He moves to top and rattles off punches, but the bell sounds before he can capitalize. MMAjunkie.com sees the final round for Means, 10-9, but gives Masvidal the fight 29-28. Jorge Masvidal def. Tim Means via unanimous decision (29-28, 29-28, 29-28).
http://www.mmajunkie.com/news/2013/0...d-live-results
---
Currently Active Users Viewing This Thread: 1

(0 members and 1 guests)
Posting Rules

You may post new threads

You may post replies

You may not post attachments

You may not edit your posts

---

HTML code is Off

---