vBookie Event

: Demetrious Johnson vs John Moraga (UFC on FOX 8)
This event is over.
UFC on FOX 8: Demetrious Johnson vs John Moraga
---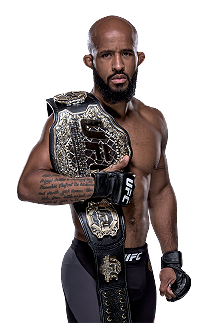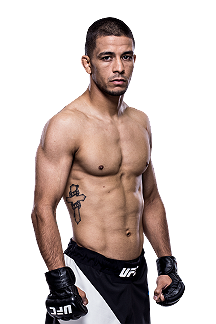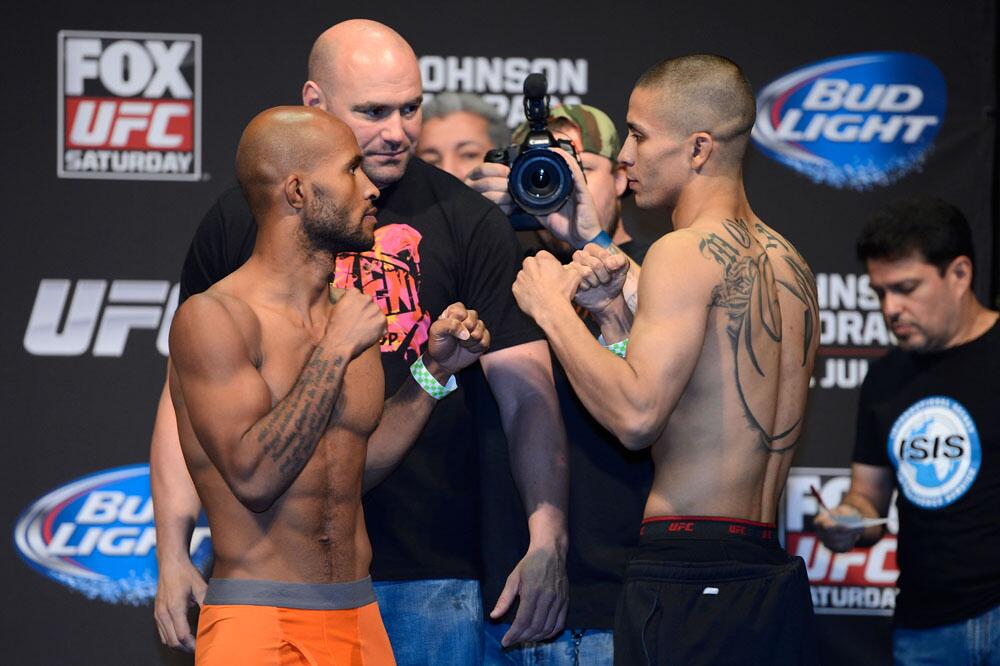 ---
Quote:
Round 1 - Moraga forward early. He cuts off the cage but doesn't overextend. Kick to the body scores. Johnson moving well. He takes another kick to the body. Moraga staying at range, trying to use his length. Johnson kicks low. Moraga answers high with punches. Low kicks traded. Johnson slips a punch and answers with a nice right hand. Moraga moves into a clinch, and Johnson circles off the cage and looks for a takedown. He scores it and moves out to side control as Moraga tries for the neck. Johnson isolates the right arm briefly. Moraga works free, but Johnson is comfortable on top. He stands, and Moraga moves to his knees. Johnson controls from the front and thinks choke but settles for diving knees to the shoulder. He hits a guillotine at the end, but the round ends. MMAjunkie.com gives the first to Johnson, 10-9.

Round 2 - Moraga out of the gate quickly, but Johnson slips it all. Johnson slips in on a lightning-fast takedown and slams Moraga to the floor. He postures up and passes to side control. Crucifix, and Johnson punches from the top. Moraga works his arm free, but Johnson still in total control. As he tries to transition, Moraga threatens with a modified triangle, but Johnson quickly pulls his head free and gets to side control. Johnson sets up a kimura grip on the far arm and punches his opponent's belly. Moraga turns and rolls and moves to his knees. Johnson tries to step around to the back. Moraga uses the cage to peel him off, and he looks for a takedown of his own. Not there, so he backs away, missing a few strikes as he goes. On the restart, Johnson quickly shoots in again and takes the fight to the floor. Dominant position again in the final minute. Johnson tries to attack the arm but settles for pounding away until the bell. Moraga frustrated as he returns to the corner, and MMAjunkie.com gives it to Johnson, 10-9.

Round 3 - Moraga looking to change things up, so he's a little more patient. Johnson kicks the leg.Moraga backs up and tries to bring Johnson to him. Moraga kicks the body and shows head movement. He wants to make Johnson come to him. He does, but he scores a takedown. Johnson quickly postures and slides past the legs into side control. He tries to isolate the arm, so Moraga rolls. Johnson gets one hook in. He can't get the other, so they return to the feet. Into the clinch, and they jockey for a trip, but it's Johnson who scores it and again works to isolate an arm. With a figure-four grip on the left arm, Johnson steps over the head. Moraga patiently rolls free from the kimura and takes top position. Johnson scrambles up, and Moraga drives him to the floor. But he can't control, and Johnson pulls away. Flurry from both to end, and MMAjunkie.com gives another round to Johnson, 10-9.

Round 4 - Johnson kicks the body. Moraga does the same, but Johnson just immediately drives into a takedown. Side control again. Moraga turns to his knees. Johnson controls from the front. As Moraga scrambles, Johnson gets to the back. Moraga prevents the hooks from coming in and stands. Johnson is winning this fight in every single aspect. He shoots in again and earns another takedown. Moraga works back up, but Johnson stays tight in the clinch and drives him back down to his knees. Johnson knees to the body. He controls the head and lets go only to flurry. Moraga gets back to his feet with less than a minute. Moraga does score flush, but as he looks to follow, Johnson alertly scores a takedown. Good moment for Moraga, but the round goes to Johnson on the MMAjunkie.com card, 10-9.

Round 5 - Moraga is going to need something special. He had a moment in the fifth, but that was it. Johnson stays away early to feel it out, and he quickly scores another takedown. Side control for Johnson. His nose is busted up, but after settling into guard, he quickly moves out again and controls from the front. Moraga isn't showing any quit, but he has nothing for the champ. Moraga crawls to his feet, and Johnson deposits him right back on the floor. Side control again, and knees come to the body. Two minutes remain. Johnson rolls out for the arm one last time. This time, it's not a kimura. It's an armbar, and it's in deep. Dean watches close and steps in when the arm is extended. Champ Demetrious Johnson def. John Moraga via submission (armbar) - Round 5, 3:43.
http://www.mmajunkie.com/news/2013/0...d-live-results
---
Currently Active Users Viewing This Thread: 1

(0 members and 1 guests)
Posting Rules

You may post new threads

You may post replies

You may not post attachments

You may not edit your posts

---

HTML code is Off

---