vBookie Event

: Diego Sanchez vs Gilbert Melendez (UFC 166)
This event is over.
UFC 166: Diego Sanchez vs Gilbert Melendez
---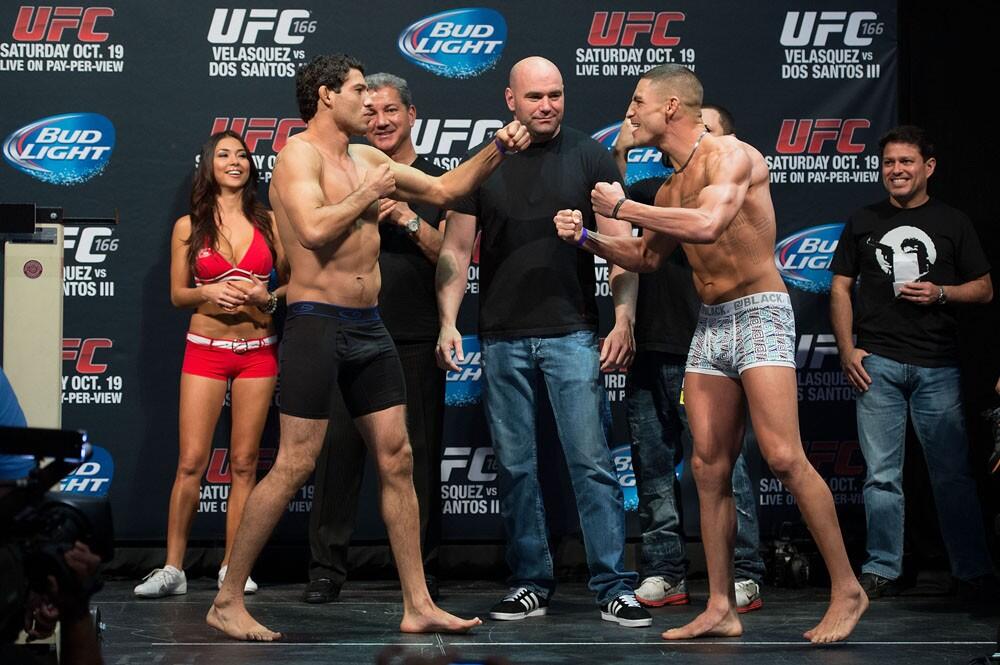 ---
Gil should box and bloody him up on the feet, but Diego can perhaps force him into a dirty war. If he does, his chances become 45/55 instead of 20/80.
Why does it redirect to Ebay (Cain Velasquez collector's t-shirt) when I click on the UFC 166 hyperlink...hahha.

If it were a five rounder it's Diego by split. Three rounds should go to Gilbert, but if he brawls and decides to play the scramble game...it could very well be another split by the Dream.
---
Marcus Aurelius: Tell me again, Maximus, why are we here?
Maximus: For the glory of the
Empire, sire.
Baked, not fried... the healthy choice.
Quote:
Round 1 - Sanchez rushes forward and set sup in front of Melendez. He catches a high kick and pushes Melendez to the floor, taking the back when Melendez turns. Melendez on his feet, but he shakes Sanchez off, and we reset. Melendez goes to the body. Sanchez looks to kick, and Melendez counters over the top. Melendez stalking, and he blocks a Sanchez high kick. Sanchez short on a takedown, and he eats a big knee and left. Somehow still standing. Sanchez shoots again, but Melendez sniffs it out and punches him before pulling away. Melendez outboxing Sanchez to open. He lands a big sweeping right hand. Melendez catches a Sanchez high kicks and shoves him to the cage. Sanchez cut by the left eye. Blood trickling down as he looks to attack. Sanchez misses another takedown. Two punches score for Melendez. Sanchez kicks the body. He's losing, but he's scrapping. Flurry from both to close. Right hand drops Sanchez, but he pops back up. Great round. MMAjunkie.com gives it to Melendez, 10-9.

Round 2 - Sanchez walks forward and tells Melendez to bring it. He wants to brawl. Melendez looking to be the more technical fighter. He's doing that well once again. Sanchez looking to load up and score something big. He does land a right, but Melendez is right there in the pocket and answering. He nearly scores with a big knee. Cut is opening up, and it's nasty. Referee Kerry Hatley wants to take a look, but we carry on after the doctor clears it. Sanchez knows he needs to do something, and he throws a leaping knee that misses. They flurry again against the cage. Unbelievable action. Melendez with a boxing clinic, as he lands straight punches and avoids the counter. Sanchez slips but gets back to his feet. Melendez's counter right is on point and doing damage. Blood running down Sanchez's face. Lead left for Melendez. Sanchez scores a takedown but can't keep Melendez on the floor. The flurries continue, as Sanchez is all heart. He misses a takedown and blocks a knee. Cut is bad, and we might not get a third. Round ends, and MMAjunkie.com gives it again to Melendez, 10-9.

Round 3 - Sanchez is going to fight on.Melendez looks plenty fresh, and he resumes his attack. Big right hands traded but both. Melendez continues to get the best of the exchanges. To to toes, and Sancehz wants more. Incredible. He's wearing a scowl on his face, and he wants to bang. Crowd is on its feet. Sanchez bloodied and battered, but my God is he fighting. Melendez picking him apart, but Sanchez keeps moving forward. As the blood flows, Hatley calls for time yet again. Sanchez wants to continue, and he's going to get to do so. He kicks the body on the restart. Crowd chanting for "Diego!" He's going to war. Unbelievable, Sancehz continues to move forward. He drops Melendez and takes the back. He can't get it, so he moves into a guillotine. He tries to pull guard and squeeze, but Melendez slips free. Back on the feet. Building is electric. Melendez wraps the body in the final minute. Sanchez hits a beautiful switch, but Melendez pulls away. Front kick from Sanchez. They tee off for the final 10 seconds. Unbelievable. Fight of the year candidate. MMAjunkie.com sees the final round for Sanchez, 10-9, but gives Melendez the fight 29-28.

Result: Gilbert Melendez def. Diego Sanchez via unanimous decision (29-28, 30-27, 29-28)
http://www.mmajunkie.com/news/2013/1...d-live-results
---
Currently Active Users Viewing This Thread: 1

(0 members and 1 guests)
Posting Rules

You may post new threads

You may post replies

You may not post attachments

You may not edit your posts

---

HTML code is Off

---