vBookie Event

: Martin vs Salaverry (MMA)
This event is over.
UFC 71: Terry Martin vs. Ivan Salaverry
---
Bets for Terry Martin vs Ivan Salaverry at UFC 71.
Sweet, I didn't think we'd see a bet for this fight.
I love Ivan, but for some reason I think that Martin is going to be strong in this weight class.

50,000 on Martin!!!
---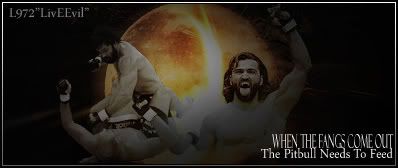 Salaverry by Sub
---
"I only want to be known as the best ever, is that too much to ask?" - BJ Penn
2000 on Terry Martin. The guy is an animal and I think he's really underrated in this matchup. Plus, I don't really like Salaverry, so I'm hoping he gets smashed.
---
Sig by Toxic

Barnett - Toquinho -Werdum - "Nurmie"
Z. Gurgel - Morango - Rocha - Tiequan
Ivan's a really crafty guy. He's great and striking and grapplig, excellent cardio, and very well rounded. I don't really think a win over Jorge Rivera by a sloppy KO isn't reason enough for me to pull for Martin in this fight. Although I won't be betting points on this fight, i'll be pulling for salveryy by 2nd or 3rd round submission.
MMA Fanatic
Join Date: Dec 2006
Location: so cal baby
Posts: 20
how can you not like ivan hes the shit but i was wishing he would have better odds to make money but im still gunna bet on him
---
SOOOOOWOOOOOOP
fav fighters no order
rampage
shogun
couture
karo
bj
gsp
tito
hendo
machida
Welterweight
Join Date: Nov 2006
Location: Toronto, ON
Posts: 2,449
Man, I think Salaverry is a strong fighter, but when was the last time he's fought? I really think the octagon rust will get to him.
MMA Fanatic
Join Date: Mar 2007
Posts: 2
Banned
Join Date: Jan 2007
Location: San Jose CA
Posts: 413
Martin by TKO in the 2nd.
Currently Active Users Viewing This Thread: 1

(0 members and 1 guests)
Posting Rules

You may post new threads

You may post replies

You may not post attachments

You may not edit your posts

---

HTML code is Off

---