vBookie Event

: Lorenz Larkin vs Brad Tavares (Ultimate Fight Night 35)
This event is over.
UFN 35: Lorenz Larkin vs Brad Tavares
---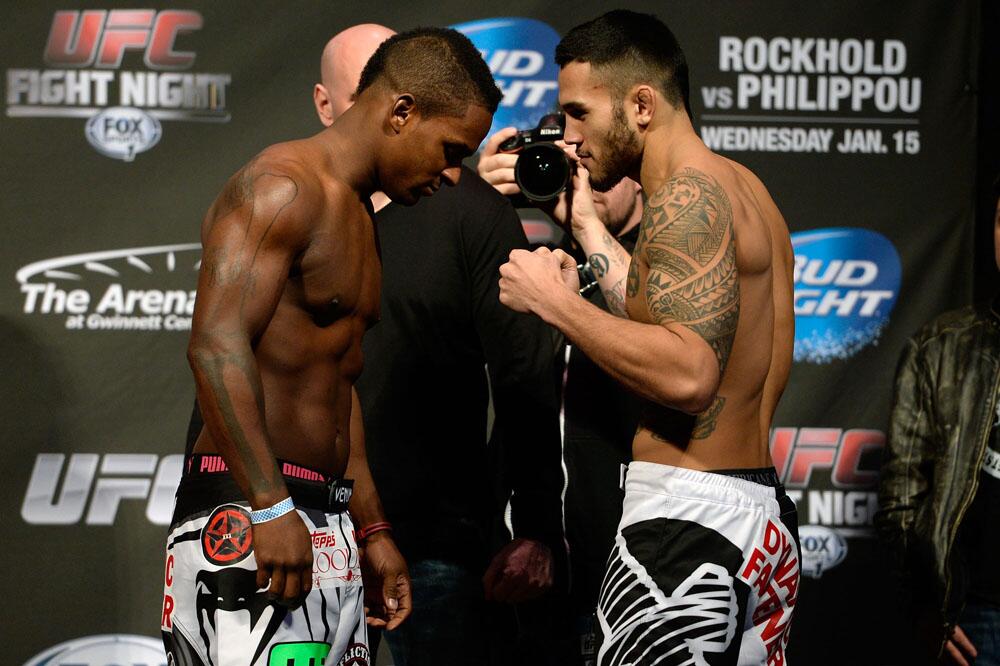 ---
Quote:
Round 1 – Tavares kicks to the inside leg early, and Larkin counters with a push kick. Big right hand from Larkin, but a counter from Tavares with a right of his own. Tavares kicks to the body, then gets inside for a nice combo to the body. Solid leg kick from Tavares to Larkin's left, but then he has to block a high Larkin kick. Tavares kicks to the body, then gets inside with a couple punches. Larkin kicks to the lead leg. Larkin gets inside and lands a good combination, then kicks high and has it mostly blocked. But he starts to come on. He lands a right hand and a kick, but Tavares returns with a right. With a minute left, he backs Larkin up with body-head. Tavares ducks under a hook and drops levels to look for a takedown. Larkin fights it for a moment, but Tavares gets it with about 10 seconds left. MMAjunkie will score the first round 10-9 for Tavares.

Round 2 – The two slow the pace a little in the second round, still trading kicks and counters and trying to get inside. Tavares eats a leg kick, but answers with a solid right – one of several times he's done that this fight. Larkin kicks high, but has it blocked. Tavares' left leg looks to be reddened from Larkin's kicks. Tavares shoots in for a single, but Larkin defends it for a moment. But Tavares stays with it. He brings him to the floor. Tavares takes his back and wraps Larkin up along the fence. He'll go after the rear-naked choke. He's got nearly two minutes left. Larkin's defending the choke for now. But Tavares is controlling things with ease. Suddenly, though, Larkin escapes and rolls over to top position. But he'll just survive the round. It's another 10-9 frame for Tavares on the Junkie card.

Round 3 – Larkin tries to turn up the volume in the third, and he swings for the fences with a right hand that misses. Tavares' counter-striking game has been solid all night, though. Larkin tries to get inside and lands a couple punches. They move back to the center, and with half the round gone, Tavares lands a spinning back fist. Larkin goes to the body, then drops down and goes after Tavares' neck. Tavares defends, but now has to defend on his back. Larkin backs away, though, and lets him back to his feet. Tavares will look for a takedown attempt, but Larkin stays on his feet to land some elbows. He lands a few big ones – Travis Browne style. Tavares won't let off of the single attempt, and he tries to block as many of the elbows as he can. Larkin lands a big uppercut, but Tavares won't drop. It'll be a 10-9 round for Larkin, but MMAjunkie sees the fight for Tavares, 29-28.
http://mmajunkie.com/2014/01/ufc-fig...-live-results/
---
Currently Active Users Viewing This Thread: 1

(0 members and 1 guests)
Posting Rules

You may post new threads

You may post replies

You may not post attachments

You may not edit your posts

---

HTML code is Off

---