Any must bets??
---
Is there any must bets that is a sure win?? If so i am trying to get me some points off of some good bets.
---
-Ortiz/GSP/Silva
LIE or DIE
Join Date: Nov 2006
Location: Winnipeg
Posts: 1,931
---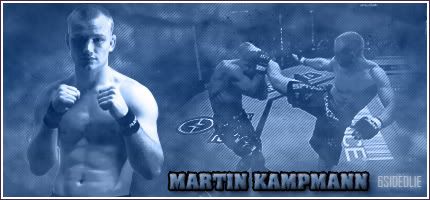 TEAM LORD:
1. Antonio Rodrigo Nogueira
2. Nate Marquardt
3. Goran Reljic
4. Amir Saddolah
RANKING: TBA
TOTAL POINTS: +TBA
Welterweight
Join Date: Nov 2006
Location: Toronto, ON
Posts: 2,449
There is no such thing as a sure bet in MMA.
Drew Fickett over Chris Lytle should be pretty easy.
---
You don't know who I am? You must be new.

Banned
Join Date: Jan 2007
Posts: 1,511
Like rated said, you never know... looking at the past few ufc's theirs been like 60% upsets...

Oh and for the gsp vs koscheck. Its not a for sure thing..gsp will most likely win but koscheck does have a good chance.
bispig vs hammill
CC vs Kongo
gsp vs kos
nog vs heath

the year of the under dog has ended early
---
Flyweight
Join Date: Oct 2006
Posts: 435
NOG over herring
SHerk over franca
---
Khaldun
--------

Fav Fighters
HW: Crocop, The Natural
LHW: Chuck Liddell, Shogun
MW: Rich Franklin, Anderson Silva
WW: Georges St-Pierre, BJ PENN
LW: Clay Guida, Sean Serk

Best Fight Ever
Couture Vs Sylvia
WOW, just, WOW
dude lay down 3333 on Heath & make a profit of 10 g's
---
"I only want to be known as the best ever, is that too much to ask?" - BJ Penn
Currently Active Users Viewing This Thread: 1

(0 members and 1 guests)
Posting Rules

You may post new threads

You may post replies

You may not post attachments

You may not edit your posts

---

HTML code is Off

---