vBookie Event

: Chuck vs Wandy (UFC 79: NEMISIS)
This event is over.
Quote:
Wand via Trainwreck
QFMFT
7K on Wanderlei. <3
---
Fav. Fighters
Wanderlei
"The Axe Murderer"
Silva
Antonio Rodrigo
"Minotauro"
Nogueira
Ken
"You got kicked. By a kick."
Shamrock
WAR The CroCop!
I could care less = you care

I couldn't care less = you don't care
I'm the Decider
Join Date: May 2007
Posts: 3,239
154 on Chuck, God, it sucks to be broke.
---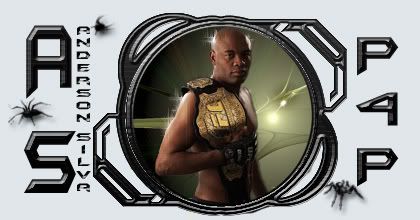 Pound4Pound, The Best There Is
5K on Wandy to axe chop the iceman !
---
Fav Fighter : BJ Penn
Supporting :
Pettis , C. Miller , Nate Diaz
GSP , Kos
A. Silva , Munoz , Hendo
Wand , Shogun , Forrest , Thiago , Mousasi , Vera
Fedor , Big Nog , Brock , JDS , Del Rosario
Im going with Wandy... mostly because he's the epitomy of a fighter I respect...

A guy who goes in a wants to absolutely DESTROY whoever is in his way.

Not this fn CHESS MATCH crap I've become so used to seeing.

As for the fighters themselves I like ole chucky, he COULD knock Wandy out in a second make no mistake about it, but the odds and the fact that Wandy is a NUTCASE in there... I go Wandy lol

WOOT WANDY 5,000
---
Dream Card
Couture Vs Cro Cop
Lesnar Vs Kimbo
Thiago Silva Vs A Silva
Griffin Vs Belfort
Leben Vs Bisping
Thiago Alves Vs St Pierre
Fitch Vs Koscheck
Fisher Vs Florian
Penn Vs Huerta
36k on Wanderlei! Looking forword to seeing him rise once again to the top where he belongs and start by steamrolling Chuck.
Bantamweight
Join Date: Jul 2006
Location: London, Ontario, Canada
Posts: 509
10000 On Wandy

That man is in the sickest shape I've seen anyone in as of late

3 to 1 eh? Not bad haha
---
I Have A Heterocrush on GSP
Quote:
Fedor is ****ed. I just Googled "Arlovski" and that's the guy with the vampire teeth!
DAMN, still only the 20th............The train is coming to town Chuck
This is a tough one but I think I will go with Chuck!

Chuck is a good counter puncher. If he come in there mentally strong and doesn't advance forward like he did with Rampage I could see him catching Silva like he did with so many other!

Also, I wonder how much the rule change will effect Silva's style! He has fought in the UFC before but that was 6 years ago!
---
You forget that this isn't just some brutal sport where everyones out to kill each other. Its much more like a game of physical chess.-looney liam
Betting my house on Silva to put the Chuckster into retirement. Liddell doesn't even deserve this match.
Currently Active Users Viewing This Thread: 1

(0 members and 1 guests)
Posting Rules

You may post new threads

You may post replies

You may not post attachments

You may not edit your posts

---

HTML code is Off

---