vBookie Event

: Jardine vs. Silva (UFC 84)
This event is over.
1K on the Axe Murderer! (even though I have a bad feeling about this fight)
---
Favourite Fighters:
1- Georges St-Pierre
2- Wanderlei silva
3- Anderson Silva
4- Frank Mir
5- Dan Henderson
6- Josh Koscheck
7- Karo Parisyan
8- Jason Miller
9- Jens Pulver
10- Antonio Rodrigo Nogueira

Forum Bets : 23-4
Ronin Ramzi
Join Date: May 2007
Posts: 1,243
I went all in on silva, I am kind of regretting it now though as I don't feel he is going to be aggressive enough
---
1.Mauricio Rua
Shogun
2.Quinton Jackson
Rampage
3.Fedor Emelianenko
The Russian Experiment
4. Thiago Alves
The Pitbull
5.Wanderlei Silva
The Axe Murderer
6.Lyoto Machida
The Dragon
7.Bas Rutten
El Guapo
8.Anderson Silva
The Spider
Silva no problem.
---
D.G.F
A man's a man, for a' that.
For a' that, an' a' that,
Their tinsel show an' a' that,
The honest man, though e'er sae poor,
Is king o' men for a' that.
Betting all my 5121 pesos on the man who trains with a snorkel.

LETS GO WANDERLEI!
---
Jack Johnson: Boxing's greatest Heavyweight champion.
400 on "The Axe Murderer." Jardine is a very precise striker, but I don't know how he'll react to a mad man like Silva in his face for the match.
---
Praise be to the Lord my Rock, who trains my hands for war, my fingers for battle.

-Psalms 144:1-

~Proudly Supporting~

-- Cain Velasquez, Rich Franklin, Vitor Belfort, Jon Fitch, Frankie Edgar, Urijah Faber --
MMA Fanatic
Join Date: Apr 2008
Posts: 10
I'm the Decider
Join Date: May 2007
Posts: 3,239
I hope this turns out into a slugfest or a MT clinic for Wandy.
---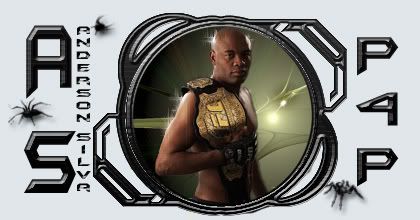 Pound4Pound, The Best There Is
5k on Wandy. He will take this by late TKO or UD.
---
-Ortiz/GSP/Silva
Quote:
Everyone's betting on Silva. Good. Better payout for me if Jardine wins.
The amount of points bet will not effect your payout.
---
mad props: Toxic
Currently Active Users Viewing This Thread: 1

(0 members and 1 guests)
Posting Rules

You may post new threads

You may post replies

You may not post attachments

You may not edit your posts

---

HTML code is Off

---