vBookie Event

: Tim Sylvia Vs. Jeff Monson (UFC 65 - Bad Intentions)
This event is over.
This is SPARTA!
Join Date: Apr 2006
Location: Houston, Texas
Posts: 5,495
10,000 on Monson.
---

MMA Fanatic
Join Date: Aug 2006
Posts: 3
I'm just gonna go out on a bit of a limb here and say all the people talking shit about this guy sucks and that guy sucks, probably couldn't fight their way out of a paper bag. So quit talking like you know how to fight cause /everyone/ in the UFC would kick your ass.
Everything I have left on Monson. Let's go Jeff!
Andrei Arlovski is better stand up and ground than sylvia and tim knocked him out wats gonna stop monson from copping that right hand
Quote:
Originally Posted by Chrisl972
1500 on Monson!!!
2500 more!!!
I can feel it!!!
---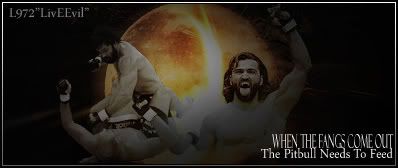 MMA Fanatic
Join Date: Nov 2006
Posts: 1
i realy dont like the way the sylvia fights is to boring but dont se another chance than he wins this fight in stand up
MMA Fanatic
Join Date: Aug 2006
Location: G-TOWN TX
Posts: 59
JEFF is going to win this fight by ko in the first round tim is good but i just dont see him ko jeff at all


CABBAGE vs PITBULL
OR
CABBAGE vs TIM
Amatuer
Join Date: Oct 2006
Location: new Jersey
Posts: 103
I've seen Monson fight three times. Each opponent was a grappler or BJJ specialist. When he won those decisions he looked AWFUL trying to stand up against them. He may be in great shape but how is he going to deal with Sylvia's punches and kicks. If he shoots in and gets Timmy to the ground then maybe something will happen but I really think you're giving Monson a too much credit. I have yet to see him fight anyone who is SERIOUSLY WELL ROUNDED.

Besides, I think it's funny as hell watching Syvia actually wear the belt. Most champs wear it over their shoulder which looks WAY COOL and BADASS. Sylvia wears it around his waist 'cause it reminds him of his jock strap.
---
Fedor sleeps with a night light. Not because Fedor is afraid of the dark, but the dark is afraid of Fedor.
MMA Fanatic
Join Date: Nov 2006
Posts: 5
yeah I have really been favoring Monson's chances, especially if he can get a takedown
Currently Active Users Viewing This Thread: 1

(0 members and 1 guests)
Posting Rules

You may post new threads

You may post replies

You may not post attachments

You may not edit your posts

---

HTML code is Off

---