vBookie Event

: Penn vs Edgar (UFC 112)
This event is over.
Bj Penn vs Frankie Edgar
---
Join Date: Jun 2009
Posts: 20,898
1,000,000 on bj
---
If a law is unjust, a man is not only right to disobey it, he is obligated to do so. ~ Thomas Jefferson
Sig by D.P.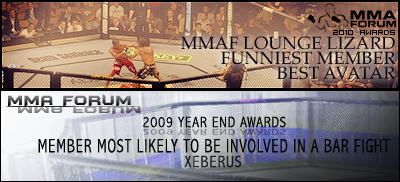 All in on my man BJ Penn.
Super Heavyweight

Join Date: Jan 2010
Location: Latvia
Posts: 4,110
Probably going to go all in on BJ after I gain some creds from posting..
MMA Fanatic
Join Date: Aug 2009
Posts: 75
Put it all on bj
---
I keep it real
I rarely bet on Penn as I don't think that he is as invincible at LW as people make him look like. However Edgar is not the guy dropping him, so 25,000 on Penn.
---
"When I land that left hook, the fight will be over."
-Paul Daley (He called it!)
edgar has nothing on penn. edgar has crisp boxing, but as soon as he feels penns power he'll break, just like florian and sanchez did.
---
<--- the punch that started it all!
My current favirote fighters
Anderson Silva
Junior Dos Santos
Mauricio Rua
Alistair Overeem
Jon Jones
WAR dan hardy, paul daley, ross pearson and terry etim doing it for the britz!
MMA Fanatic
Join Date: Mar 2010
Posts: 6
its going to be a long painful night for edgar
when was the last time odds were bigger than this? that's ridiculous...
---
If you're a good MMAF contributor & want to be a part of the most exclusive MMA sharing site online, with high quality, full events of all UFC, dream, strikeforce, WEC & TUF shows (past and present), + also instructonals, then PM me.
Currently Active Users Viewing This Thread: 1

(0 members and 1 guests)
Posting Rules

You may post new threads

You may post replies

You may not post attachments

You may not edit your posts

---

HTML code is Off

---