yea i lost 1,000,000 on bj
---
If a law is unjust, a man is not only right to disobey it, he is obligated to do so. ~ Thomas Jefferson
Sig by D.P.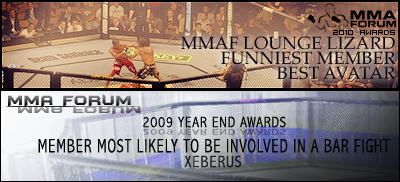 Lost 10k on Maia, won 300k on Shields and won 60k on Aldo
---
I didn't have much to start off with but to me it was a lot. BJ made me dirt poor.
---
Will make predictions for credits. Please, I'm so broke.
Quote:
Well my vbookie points are gone. I got completely wrecked by 112. Bj let me down, I forgot to bet on Anderson, which left me with 300k creds.

Then SF Nasheville happened. Guess who I went big on? Yup, the "safe" bets. All in, split between Hendo and Mousasi.

Had over 1 000 000 creds and now I have 2000. Time to start working my way back up!

So ya, just curious, anyone else get pwned by the last two events?
You've gained 600,000 points through bets since 4-20-10?
---
Currently Active Users Viewing This Thread: 1

(0 members and 1 guests)
Posting Rules

You may post new threads

You may post replies

You may not post attachments

You may not edit your posts

---

HTML code is Off

---