vBookie Event

: Rampage Jackson vs Rashad Evans (UFC 114)
This event is over.
Quote:
A cool 2 million on Rashad.

Rampage is getting finished on saturday, then I'ma be like, "WHERE MY MONEY HOMIE!?! WHERE MY MONEY?!"
Ahh man I wish you the best I know how it feels to back ur favorite guy and you just put your money where your mouth is.
For me 8k on Rampage.
---
"Silva you got one commin. little ass ninja you better keep your ass down at 185 buddy, cheatin MOTHERFU.....I better watch my language my moms watchin"

- Mark "The Hammer" Coleman
10k on Rampage.
---
Favourite Fighters:
Dan Hardy
Paul Daley
Georges St-Pierre
Nick Diaz
Cain Velasquez
Frank Mir
Demian Maia
All the British MMA guys
And... Fedor!
This ones really tough. I decided to bet a measly 1k on Rashad because I think he's really gotten into Rampages head.

If Rampage wasn't so focused on all of the things Rashad had said, then I would have gone with Rampage. But I get the feeling 'Page is gonna lose control and do something stupid.
---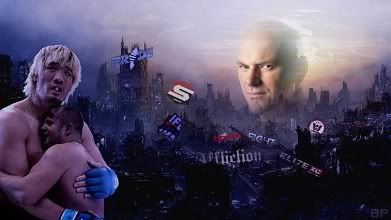 Sig Credit: Unknown
I'm not putting my credits on the guy who was off eating donuts and doing A-team for 10 months.

I want Rampage to win, I do, but I see Rashad taking this, on the feet too imo. Rampage won't get knocked out but he's gonna get worked.

200k on Rashad.
---
mad props: Toxic

Join Date: Apr 2010
Location: Gods country
Posts: 4,524
2500 on Rampage. I don't have enough points to bet big
i'll take these odds... from what i've seen rampage is now a pretty serious favorite on most books.
---
Everybody good, plenty of slaves for my robot colony?
Who said Rampage was out of shap?
At tonights weigh-ins

Join Date: Apr 2010
Location: Gods country
Posts: 4,524
Going to search for the video...
MMA Fanatic
Join Date: May 2010
Location: Akron, OH
Posts: 4
Rampage!!! woop woop!!!
---
If I had 200K to bet, I would, but If Rampage wins, I'll eat my own *****.... But only if he humps another reporter!
Currently Active Users Viewing This Thread: 1

(0 members and 1 guests)
Posting Rules

You may post new threads

You may post replies

You may not post attachments

You may not edit your posts

---

HTML code is Off

---