vBookie Event

: Kendall Grove vs Demian Maia (TUF 12 Finale)
This event is over.
TUF 12 Finale: Kendall Grove vs Demian Maia
---
---
Crazy odds for Grove... Still gotta go with Mai though. 25K
odds are way to lopsided IMO. Maia is a small MW and I think Grove has enough reach to somewhat keep Maia at bay. Hard to say though considering I thought the same about Almedia/Grove. With these odds though I will take the chance on Grove.
---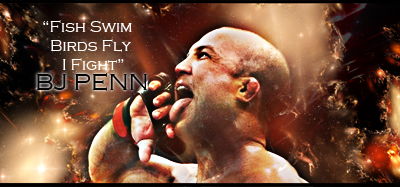 "If you get hit and it hurts hit him back you not knocked out yet."-Joe Doerksen
The Toxic Terrors (FFL)
Demetrious Johnson*Eduardo Dantas*Emanuel Newton*Will Brooks*Michael Page

Join Date: Apr 2010
Location: Gods country
Posts: 4,520
I hate grove but I'm calling a ko(tko) for duh spyduh
50k on grove
---
If a law is unjust, a man is not only right to disobey it, he is obligated to do so. ~ Thomas Jefferson
Sig by D.P.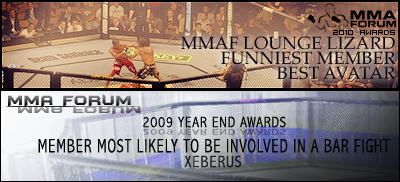 all in (1066 only
) on Maia, odds would say that smart bet goes on Grove, but I just can't bet against Maia!
---
"When I land that left hook, the fight will be over."
-Paul Daley (He called it!)
Banned
Join Date: Oct 2009
Posts: 7,811
War Demian!!!
I hope he walks through Kendall and shows the world that he is a legit top 5, 3 MW in the world.
Maia took the UD:
Quote:
Round 1 - Referee Josh Rosenthal in the cage. Maia in the center. He's leaping in to close the big distance that Grove always has, but Grove moving well early. Grove lands two punches in a flurry. Maia ducks under another punch and finally gets a leg and drags Grove down. Maia elevates to pass. Grove scrambles to his feet, but Maia has the back. He pulls Grove down and works in one hook. Grove spins free briefly, but Maia pushing in and keeping the pressure high. Trips Grove down, and Maia is in half-mount. Two minutes left. Maia steps over into mount. Grove turns to avoid punches. Maia tries to get the back, but Grove spins. He creates a bit of space, but it's not enough. Maia returns to the top and pounds away from the top. Grove rolls, but Maia is still on the back. He tries for a rear-naked choke briefly. Grove slips free and spins in, but Maia still has half-mount. Round ends there, but it's all Maia, and MMAjunkie.com awards him the round, 10-9.

Round 2 - Grove takes the center and tries again to strike from distance. Maia comes up short on his punches and tries to shoot in. Grove pulls away. Maia lands a stiff punch. He circles away and shoots in again. This tim it works, and he's in half-mount. Hammerfists from the top. Maia pushes through over the top. Grove tries to grab a leg, but Maia pulls it free, spins and shoots in again. Halfway in. Maia finally gets him on the floor, though Grove works an open guard. Grove pushes away with his legs and tries to upkick. Maia ducks under it and moves to the back again. Grove tries to roll, but Maia has firm back control. Not much time, and Grove is content to defend from the position. Grove absorbs a few punches to the ribs in the process, but he makes it to the bell. MMAjunkie.com sees it for Maia, 10-9.

Round 3 - Grove on his feet early, and crowd tries to urge him on. Grove tries again to jab, though Maia moves well and delivers a stiff counter. Grove keeping his distance. He lands a straight and bobs and weaves, but Maia finding his distance, too. Maia looks content to trade. Two minutes in. Grove lands two rights. Maia now fires his own shots to the head. Maia shoots in, but he's short. Both fighters trading punches. Maia finally looks in earnest for the takedown. Deep single. Grove leaps with his free knee. Maia doesn't let go. Maia switches to a double, but Grove sprawls well against the cage. Maia stays there until the final bell. MMAjunkie.com sees the final round for Grove, 10-9, but gives Maia the win, 29-28. Demian Maia def. Kendall Grove via unanimous decision (29-28, 29-28, 29-28).
Link
---
Banned
Join Date: Oct 2009
Posts: 7,811
Maia is so incredible, just on a different planet!!!
And damn, he looked great. Great Cardio, more muscle mass and power.
Maia 2.0 I guess
Join Date: Jun 2009
Posts: 20,759
I thought I put credits on this fight.
Oh well, Maia looked good. Grove just wasn't ready for the grappling that Maia brings to the table.
Currently Active Users Viewing This Thread: 1

(0 members and 1 guests)
Posting Rules

You may post new threads

You may post replies

You may not post attachments

You may not edit your posts

---

HTML code is Off

---