vBookie Event

: Jim Miller vs Kamal Shalorus (UFC 128)
This event is over.
UFC 128: Jim Miller vs Kamal Shalorus
---
---
Flyweight
Join Date: Jan 2011
Location: United States of Essex
Posts: 484
I will go with Jim as lately he has looked phenominal in his fights
Banned
Join Date: Mar 2011
Posts: 82
Do you guys think UFC is trying to give Jim Miller easily fight (against shalorus) so Miller can look good and get a title shot against Maynard/Edgar. Because Miller has losses to Maynard and Edgar, so a rematch with 1 of them should be cool.
100k on Miller
---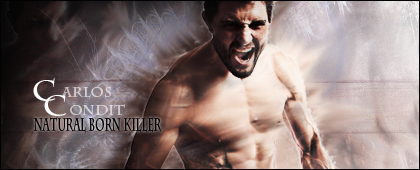 2012 FFL WINNER
CPL RECORDS
UFC 56-32-3 Strikeforce 10-4
Miller ends him in the 3rd!
Quote:
Round 1 - Both fighters come out swinging. Neither lands anything substantial, but heavy leather is flying. Shalorus works a low kick. Shalorus lands a left. Shalorus catches a flying knee and flings his opponent to the mat but waits for Miller to get back up. Miller lands a lunging left to the body. Shalorus goes low with a kick but eats a knee on the break. Miller lands a flush kick to the head, but Shalorus somehow shakes it off. Miller moves in pulls guard. Shalorus works from the top. Shalorus works some punches to the gut, but there's not a lot of action, and the ref calls for a restart. Miller lands a right but takes a lot kick. A pretty close round, but MMAjunkie.com scores it 10-9 for Miller.

Round 2 - Shalorus swings from distance, but his wild shots aren't landing much. Miller paws his jab, and Shalorus lands a nice right. The fighters trade low punches and reset. Shalorus grabs a single leg and dumps Miller, who tries to secure a triangle choke on the way down. He doesn't get it but pops back up. Shalorus swings with crosses, but Miller ducks and shoots, quickly takes his back, and secures a body lock. Miller works punches to the face from behind and looks for the opening for the rear-naked choke. Miller has enough time to patiently look for the opening. He tightens the body lock and gets his arm under his opponent's chin. Miller tightens the choke, but he can't secure it. He throws punches and looks to soften him up. Miller tried the choke again, but Shalorus keeps his chin tucked. Miller keeps working for it, but Shalorus defends nicely. Despite the extended time with the dominant position, Miller can't get the tap-out. MMAjunkie.com scores it 10-9 for Miller.

Round 3 - Shalorus wings a right-left combo. Shalorus's lunging punches are easily checked. Miller connects on a straight left and a few knees. The fighters trade from distance. Shalorus looks for a single leg, but there's a brief timeout for a low blow. Shalorus looks for a toss, but Miller snuffs it out. Shalorus moves in with punches, but his accuracy is lacking. Miller drops Shalorus with a left uppercut flush to the chin and a knee to the head, and he then unloads a quick flurry for a stoppage to the fight. Jim Miller def. Kamal Shalorus via TKO (strikes) - Round 3, 2:15
http://mmajunkie.com/news/22888/ufc-...ve-results.mma
---
Currently Active Users Viewing This Thread: 1

(0 members and 1 guests)
Posting Rules

You may post new threads

You may post replies

You may not post attachments

You may not edit your posts

---

HTML code is Off

---