vBookie Event

: Ricardo Almeida vs Mike Pyle (UFC 128)
This event is over.
UFC 128: Ricardo Almeida vs Mike Pyle
---
---
Pyle seems like an excellent value at these odds. Though he'd be a slight favorite.
---
Sig credit: MC
~ Lifetime Membership sponsored by RustyRenegade ~
50k on Pyle.
---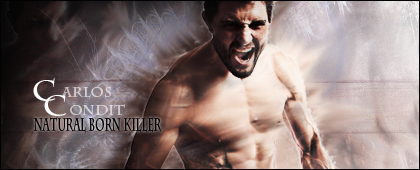 2012 FFL WINNER
CPL RECORDS
UFC 56-32-3 Strikeforce 10-4
46 k on Kyle, my biggest bet so far. Guy has heart for miles. Please don't tap out and make me look stupid. His JJ isn't terrible either.
Pyle underdog? Really? I find it hard to predict this fight but I'd expect "Big Dog" to the the "Under Dog" here.
Banned
Join Date: Oct 2009
Posts: 7,811
This is such a great matchup, should have been on the Main Card! Almeida also should have a big edge on the ground.. I believe he is going to outgrapple him for the majority.
Pyle won a UD:
Quote:
Round 1 - Almeida goes low with a kick. Pyle answers, and Almeida returns low and then high. Both fighters testing range. Pyle goes low with another kick. Almeida took an eye poke but shakes it off. The fighters trade power shots, but not much is landing. Almeida shoots, but Pyle slams him to the mat and then walks away. Almeida shoots again, but Pyle defends and puts him against the cage. They break and reset. Almeida shoots and gets the takedown, but Pyle is right back up. He eats a punch but nearly grabs a guillotine. Almeida lets his hands fly and has some success before pinning Pyle against the cage. Pyle grabs the Muay Thai clinch, but he doesn't have the position against the cage. Almeida dips and eats a knee. MMAjunkie.com scores a tactical first round 10-9 for Almeida.

Round 2 - Pyle throws a soft low kick, and Almeida answers Almeida lands a nice body kick, ducks under a punch and gets the takedown. Pyle leans against the cage and hops back up. The fighters jockey for position against the cage, though Pyle remains pinned. Almeida dips for a single leg, but Pyle resets. Almeida moves in with a right, but Pyle gets the brief takedown before Almeida is back up and easily fighting off a guillotine. Almeida extends a long left jab. The pace slows, and the boo birds come out. Almeida clinches and puts Pyle against the cage before he escapes and resets in the center. Pyle lands a low kick. Almeida answers with one of his own. Almeida lands a nice left and shoots for a double leg and gets it. Almeida works punches to the body. Almeida closes out the round in full guard and the top position. It's another close one, but MMAjunkie.com scores it 10-9 for Almeida.

Round 3 - The fighters trade low kicks. Little action early. The fighters swing and circle, but little is landing, the crowd isn't happy. The fighters trade some jabs, and Almeida gets through a lunging right. Pyle works body kicks and then stuffs a takedown. Pyle gets a nifty trip takedown. He stands over Almeida and considers whether to move in. Almeida shoots upa nd grabs a leg and puts him against the cage. Almeida looks for a single leg and gives media row a wink while against the cage. The pace stalls in the clinch. Almeida looks for a single leg, Pyle tries to break with a knee, and he eats a left. Almeida shoots and gets the takedown, but Pyle immediately is back up. Almeida continues working for the takedown, but Pyle gets a brief takedown as the round ends to boos. MMAjunkie.com scores a close round 10-9 for Pyle but 29-28 overall for Almeida. Mike Pyle def. Ricardo Almeida via unanimous decision (29-28, 30-27, 30-27)
http://mmajunkie.com/news/22888/ufc-...ve-results.mma
---
Currently Active Users Viewing This Thread: 1

(0 members and 1 guests)
Posting Rules

You may post new threads

You may post replies

You may not post attachments

You may not edit your posts

---

HTML code is Off

---