vBookie Event

: Brian Bowles vs Takeya Mizugaki (UFC 132)
This event is over.
UFC 132: Brian Bowles vs Takeya Mizugaki
---
---
Im taking Bowles in this one, and betting on him too.

100k on Bowles.
---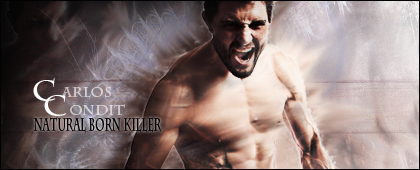 2012 FFL WINNER
CPL RECORDS
UFC 56-32-3 Strikeforce 10-4
MMA Fanatic
Join Date: Jul 2008
Posts: 100
njokuani vs winner and bowles vs mizugaki on the FACEBOOK PRELIMS? this card is STACKED.

makes me nostalgic about the wec...
Bowles wins by UD:
Quote:
Round 1 - Referee Mario Yamasaki in the cage. Mizugaki in the center, bouncing. He lands the first strike as Bowles circles around. Bowles lands a nice left hand. Mizugaki lands a low kick and avoids the counter up top. Bowles a little gun-shy to start, though he is throwing with power when he does let his hands go. Mizugaki staying well clear on the outside. Halfway in. Bowles walks into a right hand. Bowles picking his punches carefully. Mizugaki landing from distance. It's a moderate pace to open. Bowles starts to press and lands a clean strike. Mizugaki moves in to clinch. Bowles circles off and lands a nice knee to the chin. Break in the closing seconds. Not much on the restart, and that crowd voices its disapproval. MMAjunkie.com sees it for Mizugaki, 10-9, but Bowles seems to have some pop waiting to uncork.

Round 2 - Mizugaki still fighting from distance. Bowles continues to circle on the outside, but he needs to get busy. Mizugaki jumps in with another right hand. Mizugaki lands a slapping low kick to the outside. Crowd really wants these two to come alive. Bowles scores, but Mizugaki right there with an answer. Halfway in. Bowles catches a low kick and clocks Mizugaki with a counter straight. Bowles immediately follows to the floor and takes the back. WIth a figure-four in place, Bowles goes to work on the rear-naked choke. Mizugaki defends well, peeling the arm off the neck and looking to control the wrists. Bowles comfortable in the position, and he looks again for the choke. Still nothing. Round ends in the position, and it's clearly for Bowles, 10-9 on the MMAjunkie.com card.

Round 3 - Bowles tells his corner between rounds his hand is broken. With the bout likely in the air, the two move immediately into the clinch. Mizugaki circles off. Nothing there, and they break. Bowles dives in with a successful takedown. Mizugaki works right back to his feet, but Bowles leaps onto his back. Bowles searching for the choke, but Mizugaki continues to defend well in the standing position. Yamasaki gives the two plenty of time in the position, and the crowd again not happy. With less than a minute, he finally calls for a restart. Mizugaki tries to rush forward with punches. Bowles moves, but it's obvious he does not want to punch. He moves away until the final bell, and MMAjunkie.com has it for Bowles, 10-9 in the final round and 29-28 overall. Brian Bowles def. Takeya Mizugaki via unanimous decision (29-28, 30-27, 30-27).
http://mmajunkie.com/news/24239/ufc-...ve-results.mma
---
Currently Active Users Viewing This Thread: 1

(0 members and 1 guests)
Posting Rules

You may post new threads

You may post replies

You may not post attachments

You may not edit your posts

---

HTML code is Off

---