vBookie Event

: Dan Hardy vs Chris Lytle (UFC on Versus 5)
This event is over.
UFC on Versus 5: Dan Hardy vs Chris Lytle
---
---
If Lytle is man enough to keep his stand up and fight ethos then this will be a good pick em fight, im going with Hardy and will state for the record i am a fan and yes he does need major wrestling development i know!
---
TEAM GROTTY 2013
Stefan Struve
Donald Cerrone
Glover Texiera
Cub Swanson
Kim Dong - Hyun.
Lytle lost to Davis. Hardy beat Davis.

MMA MATH FTW!


(this always backfires)
Join Date: Oct 2009
Location: UK... Where the sun never shines.
Posts: 11,553
A big fat 1,000,000 on Hardy.



What a fool I am. this could easily backfire greatly!!
I will hardy har har if Lytle brings his wrestling game to a striking match.
---
Hard work is the only real PED.
Prospects -- Doo Hoo Choi, Ashlee Evans Smith, Mickey Gall, Sage Northcutt, Thomas Almeida, Yair Rodriguez, Lorenz Larkin, Robert Whittaker
1.1 million on Lytle. Mr Hardy is going to sleep.
---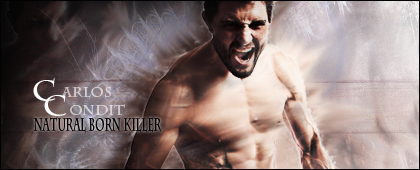 2012 FFL WINNER
CPL RECORDS
UFC 56-32-3 Strikeforce 10-4
100,000 on lights out
---
Everybody good, plenty of slaves for my robot colony?
Hell of a fight, like they wanted:
Quote:
Round 1 - Referee Herb Dean in the cage for the night's main event. Fighters are all smiles and the building is electric. Lytle takes the center and ffires a big overhand right. Hardy rifles off a few jabs,a dn Lytle answers back with big swinging hooks. Lytle lands a crisp uppercut, and Hardy answers back with a hook. Hardy lands a few crisp kicks. USA chant erupts, of course. No sign of a takedown yet. Lytle pulling the trigger a little more freely. Hardy working a few kicks in, as well, but Lytle seems content to box. Both fighters scoring. It's moderately paced, but the shots ar absolute bombs. Hardy bouncing and resetting, but Lytle is just walking forward with reckless abandon. Less than two minutes. Both fighters doing damage. Crowd behind Lytle, and he staggers Hardy a bit. Left hook scores for Lytle. Hardy mixes in a knee in the clinch. Lead left for Lytle again. Hardy whiffs at the bell. MMAjunkie.com sees the first for Lytle, 10-9.

Round 2 - Lytle winging heavy leather again. Hardy there to return fire. Still, Lytle is doing the damage. Hardy still bouncing, and he digs to the body. Tide turns a bit, and straight right sees Lytle's knees buckle. Hardy rushes in, but Lytle clinches and recovers. Hardy starting to land with more frequency and power. Lytle catches Hardy in the eye. Quick restart. Hardy with a knee, but Lytle wings a few crisp hooks. A homerun shot comes up just short, and Lytle smiles. Hardy lands a nice punch and then shoots. Lytle defends it well, and they reset Lytle seems to be slowing a bit now. He's till throwing with power, and a combination catches Hardy's attention. Hooks traded. Both fighters just standing and banging. No attempt to hide the moces. It's just straight boxing in the pocket. Moderate apce, and Hardy looking just a bit fresher. Still, Lytle is walking forward. Big right lands fro Lytle, and he kicks to the body, too. Late charge from Lytle. Another crisp left from Lytle, and he applauds his own work. Round ends. Lytle had nice work in the final phases of the stage, but MMAjunkie.com gives it to Hardy, 10-9.

Round 3 - Both fighters still going forward. Lytle kicking a little more. Lytle lands a big left hand, but Hardy doesn't budge. Lytle finding a home for that lead left. Again it scores. Hardy moving slower and firing less. Hardy still pushing, but he's not working in combinations. Lytle continues to work that lead hook. Hardy misses a knee but lands a straight. Two minutes left. Pace slowing, but power shots still coming. Hardy just can't seem to get the range or frequency. A knee lands for Hardy. He shoots in with a minute left, but Lytle makes him pay. Choke is in, and Lytle rolls to the top. Hardy taps. One hell of a way to finish a career. Chris Lytle def. Dan Hardy via submission (guillotine choke) - Round 2, 4:16.
http://mmajunkie.com/news/24803/ufc-...ve-results.mma
---
i guarantee you we'll see chris fight again, too. he loves to fight too much to retire permanently.
---
Everybody good, plenty of slaves for my robot colony?
Currently Active Users Viewing This Thread: 1

(0 members and 1 guests)
Posting Rules

You may post new threads

You may post replies

You may not post attachments

You may not edit your posts

---

HTML code is Off

---