vBookie Event

: Rousimar Palhares vs Dan Miller (UFC 134)
This event is over.
UFC 134: Rousimar Palhares vs Dan Miller
---
---
500k on Palhares.
---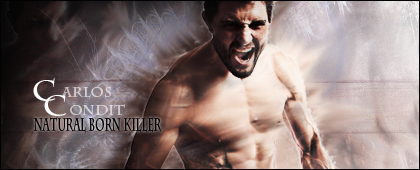 2012 FFL WINNER
CPL RECORDS
UFC 56-32-3 Strikeforce 10-4
That was kinda interesting in the first round you think?
Quote:
Round 1 - Referee Herb Dean in the cage as we go live on Spike TV. Palhares takes the center as the crowd shouts his nickname. Miller circles on the outside and opens with a low kick. Both fighters showing respect to open as they look for possibilities. THey clinch up against the cage briefly and hit the deck. Palhares is on bottom, and he quickly attacks the arm. Miller spins and pulls through and works smartly back to the feet. Palhares lands a powerful kick to the thigh. Another follows. Miller retreats to the center rather than follow to the cage. Halfway in. Palhares rocks Miller. He charges forward and dumps him on the floor. Somehow, Miller recovers and pushes forward, winding up in top position. Gutsy work by Miller, but Palhares did some damage with that series. Still, Miller stand up and returns to his feet. Palhares still firing off that overhand right. A knee from the clinch lands. A high kick rocks Miller. He hits the deck, and Palhares fires off some nine punches before walking away and leaping onto the cage. Only one problem: The fight's not over. A confused Miller rises, and Dean has to go peel Palhares off the cage. On the restart, Miller grabs an advantage, but the round ends before he can capitalize. What an odd sequence. MMAjunkie.com gives it to Palhares, 10-9.

Round 2 - Palhares like a man possessed to open, and he drives in for the takedown. Miller being manhandled on the floor as Palhares assaults him against the cage. Miller grabs a leg and tries to bring the action down, but Palhares steps over to the back and keeps pounding away. Miller with incredible heart, but Palhares is on top and pounding away. Dean watching closely. Miller bloodied, and he tries to secure an arm. Palhares pulls free and continues to punch. He looks to be tiring from top. Adrenaline dump may have got the best of him. Miller surviving underneath, but Palhares in complete control. Palhares' punches have lost some zip, but he's still scoring. Miller thinks leg lock but quickly relents. Punches continue to come from top. Miller covers and rolls and moves, but he's got nothing to offer. Palhares' power has dropped, but he's mauling his opponent. Round ends, and MMAjunkie.com sees it 10-8 for Palhares.

Round 3 - Palhares and Miller looked exhausted, and rightfully so. Miller's face is bruised and battered. Still, he fires off a few testing punches. Palhares has lost a lot of steam, but he's still firing the occasional massive blow. Unfortunately, they're missing. Miller starting to find his distance and connecting with straight lefts and rights. Two minutes in. Neither fighter has much in the tank. Palhares is cruising a little, and it's allowing Miller to score points. Miller really finding a home for his hands, but he can't do it with enough frequency to make a difference, as he'll likely need a finish. Every Palhares punch earns cheers from the crowd, and it may sway the judges a bit in this frame. Still, it hardly matters after what he did in the opening round. Both fighters missing with bombs. Round ends, and MMAjunkie.com leans toward Miller for landing the cleaner shots and moving forward, 10-9. Still, he'll come up short in the fight with Palhares taking it 29-27. Rousimar Palhares def. Dan Miller via unanimous decision (29-27, 30-27, 30-25).
http://mmajunkie.com/news/24978/ufc-...ve-results.mma
---
Lightweight

Join Date: Oct 2006
Location: Vancouver BC
Posts: 1,981
it was crazy
and again it was Palhares doing something dumb...
first he whines about the leg slip with Nate... now he runs off declaring himself the winner... something messed up with that guys head
and wtf is up with judges scorin???
29-27, 30-27, 30-25
30-25 !?!?! WTF!
I could see 30-27... but 25?!? sheesh
Currently Active Users Viewing This Thread: 1

(0 members and 1 guests)
Posting Rules

You may post new threads

You may post replies

You may not post attachments

You may not edit your posts

---

HTML code is Off

---