vBookie Event

: Tiequan Zhang vs Darren Elkins (UFC 136)
This event is over.
UFC 136: Tiequan Zhang vs Darren Elkins
---
---
500k on Zhang
---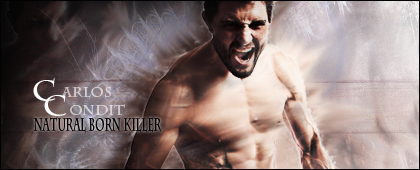 2012 FFL WINNER
CPL RECORDS
UFC 56-32-3 Strikeforce 10-4
Quote:
Round 1 - Referee Dan Miragliotta oversees the featherweights. Zhang takes the center, and they both fire odd right hands. Trading strikes early. Elkins shoots in, and Zhang tries a choke, but Elkins scrambles and rolls. Zhang finally has to let go. Elkins backs away briefly but sets back up in Zhang's guard. Elkins stands and delivers a few right hands. Zhang working to maintain guard underneath, but Elkins staying busy on top with punches to the head and body. Short elbows on top form Elkins. Zhang tries to sit up, and Elkins tries to secure the neck from the top. Elkins absolutely smothering from the top. Elkins advancing, and Zhang rolls. Both hooks in for Elkins. The right leg comes free as Zhang sits, but Elkins gets it right back in. He's looking for the choke. Not there, but he lands a few punches. Zhang spinning, but Elkins is stuck. Another nice choke attempt misses. Final minute. Zhang defending well, but he is not getting free. Round ends, and it's all Elkins, 10-9.

Round 2 - Zhang punches over the glove touch. Elkins shoots, but this time Zhang has his guillotine and drops back. Elkins rolls and spins out to side mount. Scramble for position, and it ands with Zhang turtles and Elkins on his back. That quickly turns into a familiar position with Elkins sinking in both hooks and the fighters moving to their sides. Another transition, and Elkins moves to side mount. Zhang continues to defends, and they move back to the feet. Elkins pushes in, and Zhang again goes for the signature guillotine. It's a one-trick wolf. Sorry. Had to. It doesn't work. Elkins again on top. Half-mount, and he grinds away. Zhang gets a sweep, but Elkins is relentless and continues to grind away. There's no big damage, but as time winds down, it's unquestionably Elkins' round, 10-9.

Round 3 - Zhang is going to need a finish. Elkins shoots in, and this time Zhang looks to actually have the choke. Elkins survives a few tense moments, and pops his head free, much to the crowd's surprise. Elkins grabs the legs and turns his opponent and again takes top position. Half-mount for Elkins, and he's again grinding away. Short punches and elbows. Zhang rolls to his knees halfway in. He was so close to the finish to start the round, but now he's in quicksand yet again. Elkins gets the back and locks in the figure-four around the body. Elkins looks for a choke but then settles for punches to the head. Zhang continues to defend the choke and refuses to give up. Still, he's going to need an absolute miracle. Elkins content to punch away, and Miragliotta lets them finish there. MMAjunkie.com gives the final round to Elkins, 10-9, and the fight to him as well, 30-27. Darren Elkins def. Tiequan Zhang (30-27, 30-26, 30-27).
http://mmajunkie.com/news/25575/ufc-...ve-results.mma
---
Currently Active Users Viewing This Thread: 1

(0 members and 1 guests)
Posting Rules

You may post new threads

You may post replies

You may not post attachments

You may not edit your posts

---

HTML code is Off

---