vBookie Event

: Matt Mitrione vs Cheick Kongo (UFC 137)
This event is over.
Quote:
Round 1 - A lot of little movement to start the round but neither guy really firing off a strike for the opening minute. 90 seconds in and still no strikes of any note have been thrown. They clinch up and Kongo pushes him into the cage. Knee to the thigh by Kongo. Kongo keeps throwing to the thighs. Right hands by Kongo coming up just short. Leg kick by Kongo. The crowd is turning on the fight quickly. Body kick by Kongo is caught by Mitrione and he sweeps him to the ground but lets him right back up. Both men land left hands. 10-9 Kongo I guess?

Round 2 - Leg kick by Kongo. Mitrione lands a left hand. Kongo really looking to use leg kicks this round. Overhand right from Kongo is blocked. Leg kick from Mitrione, one in return by Kongo. Kongo opens up with some punches and Mitrione tries to fire back but misses. Right hand by Mitrione lands now. Body kick by Kongo. Left hand by Mitrione gets through. Leg kick by Kongo again, one from Mitrione again. Kongo pushes forward again. Mitrione is defending alright but it's Kongo applying the majority of the pressure. Uppercut by Mitrione gets in. Kongo is throwing his hands a little more now. Kongo with a leg kick, Mitrione with a leg kick. Right hand by Mitrione and I guess I'd give that to Mitrione to even it up.

Round 3 - Mitrione throws a little flurry early on that didn't land but forced Kongo to defend. Kongo with a few nice punches and now he scoops Mitrione and gets a nice takedown. Kongo in side control after avoiding a leglock. Mitrione tries for the leglock again and gives up his back. Mitrione manages to stand up though. Mitrione has a bad cut over his left eye. Kongo is looking for another takedown against the cage. Pure strength gets him the takedown. Elbows to the body by Kongo. Kongo remaining on top not doing a ton of work. Now he opens up with some punches and elbows. Mitrione trying to stand up against the fence but gives up his back. Now he rolls for a leg again and Kongo is landing punches again. 10-9 round for Kongo gives him the fight on my card.

Official Scorecards: 30-27, 30-28, 29-28 all for Cheick Kongo.
http://www.bloodyelbow.com/2011/10/2...s-pay-per-view
---
When was the last co main event winner not to get a Rogan interview??
---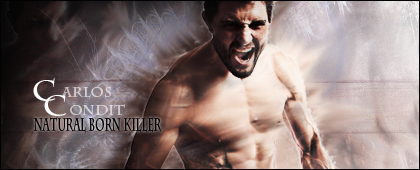 2012 FFL WINNER
CPL RECORDS
UFC 56-32-3 Strikeforce 10-4
OldFan. You ready for your new sig?

Join Date: Mar 2010
Location: NC.
Posts: 9,815

Join Date: Mar 2010
Location: NC.
Posts: 9,815
Currently Active Users Viewing This Thread: 1

(0 members and 1 guests)
Posting Rules

You may post new threads

You may post replies

You may not post attachments

You may not edit your posts

---

HTML code is Off

---