vBookie Event

: Ramsey Nijem vs Dan Downes (UFCj 137)
This event is over.
UFC 137: Ramsey Nijem vs Dan Downes
---
---
500k on Nijem.
---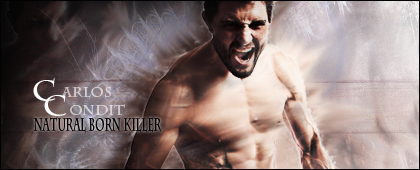 2012 FFL WINNER
CPL RECORDS
UFC 56-32-3 Strikeforce 10-4
Quote:
Round 1 - Referee Josh Rosenthal in charge of this lightweight fight. Nijem scores quickly with two punches. He resets and lands three more before moving into the clinch and pulling the fight to the floor. Downes spins to a knee, but Nijem remains tight to his back. Downes up to his feet and spins in before pulling away. Nijem again tees off with punches up the pipe before scoring another takedown. Downes quickly to his knees, but Nijem lands a few elbows. Downes gets to his feet yet again, but Nijem again locks the body and slides to the back. He trips Downes to the floor and jumps the back. Nijem briefly appears to have a rear-naked choke. Two minutes remain. Nijem works a few punches from the back and again looks for the choke. It looks to be there, but a gritty Downes somehow survives and works back to his feet. Downes lnadsa s few punches of his own and looks light on his feet. Nijem shoots in again, but Downes ready this time and sprawls. Nijem's second effort works the fight to the floor, and he's again on the back. Twenty seconds left. Nijem has completely controlled this round, and Downes again shows his grittiness. MMAjunkie.com gives it to Nijem, 10-9.

Round 2 - Nijem again just teeing off on the feet, and he mixes in a low kick to end a combination. He shoots in again, and Downes works himself into an inverted triangle position.He looks to shift and tighten it, but Nijem survives, recovers and drives through to get himself to top position. Nijem posturing and punching. Downes tries to grab an arm or a leg, but Nijem moves to mount. Downes spins and gives up his back. Nijem again with a rear-naked choke, but he's too far to the side to finish. He settles for more pounding as he is again just roughing Downes up. Downes stands and is blasted wth a knee. Tight quarters against the cage, but Nijem is somehow finding room to work and threaten with submission while landing the occasional elbow or punch. Downes on his knees. Nijem again to the back for the choke. Downes continues to survive, but that's the only word for it. He's got nothing to offer his opponent right now. Nijem continues to work for the choke, but the bell sounds. MMAjunkie.com again gives it to Nijem, 10-9.

Round 3 - Nijem starts quickly again with strikes before diving in for the takedown. Seems fine on the feet but continues to favor the ground attack. Nijem on the back in no time, and Downes again in complete defense mode o his knees. Nijem has the right hook in, and Downes tries to stand and shake him off, but it's not happening. Short right hands from the back fro Nijem, who is really impressive at the halfway mark. It's a carbon copy of what we've seen from moment one. Nijem flattens out Downes again and tries to get the choke. Downes keeps his chin tucked and has yet again proven himself to be one of the toughest dudes in the sport, but he hasn't had one bright moment. Nijem continues to look for the choke in between punching spurts, and the fight finishes there. Another clear round for Nijem, and MMAjunkie.com awards him a 10-8 for the effort, thus giving him the fight, 30-26. Ramsey Nijem def. Danny Downes via unanimous decision (30-25, 30-26, 30-27).
http://mmajunkie.com/news/25845/ufc-...ve-results.mma
---
Currently Active Users Viewing This Thread: 1

(0 members and 1 guests)
Posting Rules

You may post new threads

You may post replies

You may not post attachments

You may not edit your posts

---

HTML code is Off

---