Hmm...two wrestlers going at it. That's always fun.

Man, they did it again. Who would have thought, Cung vs Ace. Lotta people shit on Cung, but he brings a different element into the sport which is dope! Where it's 90% wrestling these days he utilizes some high flying kicks. Should be a good fight!
---
Marcus Aurelius: Tell me again, Maximus, why are we here?
Maximus: For the glory of the
Empire, sire.
Baked, not fried... the healthy choice.
MMA Fanatic
Join Date: Aug 2008
Posts: 45
Franklin Vs. Le UFC 148
---
Quote:
The UFC's annual Independence Day card is generally one of the biggest cards of the year, and the UFC announced the first official bout for it today. Former UFC middleweight champion Rich Franklin will make his return to 185 and take on former Strikeforce middleweight champion Cung Le at UFC 148. UFC.com shared the news along with the Clay Guida vs. Gray Maynard matchup:

Franklin hasn't competed in over a year, when he dropped a decision to Forrest Griffin at UFC 126. He was expected to face Antonio Rogerio Nogueira at UFC 133, but a late injury to Nogueira forced the bout to be scrapped. Shortly after that, Franklin injured his shoulder and underwent surgery in October. This will be his first middleweight bout in almost four years, with the last being a TKO win over Travis Lutter at UFC 83.

Le signed with the UFC last year after an extended break from fighting due to his acting schedule. He was expected to debut against Vitor Belfort at UFC 139, but an injury changed that to a bout with Wanderlei Silva. He lost the bout via TKO in the second round.

The only other bout rumored for the card at this point is the third fight between UFC bantamweight champion Dominick Cruz and Urijah Faber
http://www.bloodyelbow.com/2012/3/18...ng-le-mma-news
Maynard knocks Guida out but Franklin vs Le is a tough call. Tempted to say Franklin via submission.
---
Damn was hoping for a more winnable fight for Guida's return, I can't see how he beats Maynard, unless he goes into Edgar mode and freezes.

Le vs Franklin will be awesome, can't wait to see Le back in action
maynard vs guida is a tough call. UD either way is how I see it, but I will say I lean towards guida.

Franklin rolls Le imo
---
If a law is unjust, a man is not only right to disobey it, he is obligated to do so. ~ Thomas Jefferson
Sig by D.P.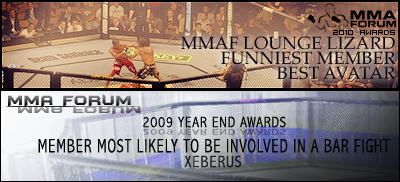 Looking forward to cranky and moody Franklin once again ! Great match-up with Le, wish both these guys could come out victorious
---
Total Tottenham
http://www.totaltottenham.com/forum/index.php
Supporting - Machida, Edgar, Mitrione, Pickett, Cruickshank, Wiman, Lauzon, Falcao, Belcher, Korean Zombie, Palhares, Hendricks
Retirees - Lytle, BJ Penn, Hackney,
Megaweight
Join Date: Mar 2007
Posts: 5,499
I think Guida vs Maynard is a very tough fight for both of them.

I think Franklin walks through Le.
Join Date: Jun 2009
Posts: 20,897
Hoping Guida and Franklin win there fights. I think Maynard takes his though. I mean he has fought Frankie 3 times and that should have been plenty of practice watching someone bounce all over the place. The difference is that Guida is willing to war with peop,e where Frankie doesn't seem to be.

I think am thinking split decision but not sure who to take.
Yes. I love seeing Franklin back at 185. I can see him winning a few at MW and getting a title shot if Anderson retires or someone beats him. Franklin dominated the MW division except for Anderson.
---
Top 10 Favorite Active Fighters
Anderson Silva
Jon Jones
Anthony Pettis
Pat Barry
Matt Mitrione
Gunnar Nelson
Mark Hunt
Carlos Condit
Chris Weidman
Rory MacDonald
Currently Active Users Viewing This Thread: 1

(0 members and 1 guests)
Posting Rules

You may post new threads

You may post replies

You may not post attachments

You may not edit your posts

---

HTML code is Off

---