MMA Fanatic
Join Date: Mar 2012
Posts: 3
Good Seats or Bad Seats
---
Hello Everyone,

I'm new here and I just bought some tickets for ufc on fox 2 and I just not noticed that my tickets kindof fall in the direction of one of the pillars of the Octagon. So I'm wondering am I going to be able to see or did I make a mistake in buying these tickets they are 2nd row on the lower level. Just wondering if anyone else has experienced this.

Thanks
Joe
If you just bought tickets for UFC on FOX 2 I think some inconsiderate person has taken advantage of your good natured personality
IF your tickets are for UFC on FOX 3, I wouldn't worry about the pillar at all... First of all they're going to be there no matter which seats you get, and it's very rare that both fighters will be in a position that hides them both from view
---
I've had a harder time seeing around portly cameramen than pillars myself before.
---
<<~~ Is a semi portly cameraman, and wonders why anybody wants to see the shows live when you can see so much more on the broadcast!
---
-------------------
Dan The Ju
-------------------
<--pays a grand for tickets and focuses on the big screens
---
If a law is unjust, a man is not only right to disobey it, he is obligated to do so. ~ Thomas Jefferson
Sig by D.P.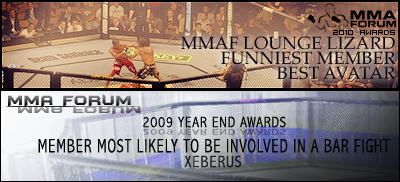 Quote:
<--pays a grand for tickets and focuses on the big screens
Heh heh heh- exactly the same experience here.
While I'm glad I went and experienced an event in person, watching MMA in HD on a big screen and being able to pause to go to the can and/or get food/bevvies is, in the words of Bono, even better than the real thing.
And airpower: if you're the kind of fan who appreciates the in-fight commentary, you can usually buy a little radio and ear-piece (I think they were $15) at the venue that broadcasts the event audio.
.
Flyweight
Join Date: Jun 2006
Posts: 406
Agree with others here, going to a live event is a dissapointing outing. No seats are good, really. The octogon is not very condusive to watching live: chainlink fence is not as see-through as a boxing ring, then there are the 8 pillars and then there are the cameramen. I've been and would not pay more than $50 for a UFC event. TV is the best way to view.
---
Tripster
Amateur
Join Date: May 2009
Posts: 189
A blocked pillar view isn't fun. The camera guys are even worse! On ticketmaster you can see which seats are available. I always recommend elevated seats and in between the pillars.. But thats just me..
Every live fight Ive ever been too at least half the fights ended up behind a pillar some time during the match. It's just the way it is
---
Credit to M.C !!
Megaweight
Join Date: Mar 2007
Posts: 5,499
Do what I did, when the fight goes somewhere where it is impossible to see the action just look up at the big screens that they will have up.
Currently Active Users Viewing This Thread: 1

(0 members and 1 guests)
Posting Rules

You may post new threads

You may post replies

You may not post attachments

You may not edit your posts

---

HTML code is Off

---