Join Date: Jun 2009
Posts: 20,897
Matt Hughes 'at a crossroads between fighting another fight or retirement
---
Quote:
LOS ANGELES, Calif. – Matt Hughes said he was excited and a little relieved when he learned that Chael Sonnen would be sitting next to him at the analyst desk of "UFC Tonight."
Obviously, Hughes is not Anderson Silva, Wanderlei Silva or a whole host of others – Brazilian and otherwise – whom Sonnen has offended in his tour of trash-talking duty.*
No, Hughes is a guy who's uncomfortable talking about subjects he doesn't really care about. He's a guy on loan from his farm in Hillsboro, Ill., where it's planting time. He's a guy who may or may not be fighting again, and he won't be able to talk about it until he hears from UFC president Dana White.
So he's a little out of sorts on the FOX set in Los Angeles. But thankfully, Sonnen, whom he knows better than the out-of-town analyst Kenny Florian, is picking up the slack.*
"As far as sitting there talking, Chael is obviously here for a reason," Hughes told MMAjunkie.com (
www.mmajunkie.com
) prior to this week's taping of "UFC Tonight" for FUEL TV.*
Hughes (44-9 MMA, 18-7 UFC) is not here just because he's one of the most decorated champions in UFC history, a UFC Hall of Famer and just a knowledgeable MMA guy (talking about it notwithstanding). He's here to give an update on on his career and whether it will continue. The problem is, he doesn't have an answer.*
"Nope," he said. "I don't know what's going to go on or what's going to happen yet. So we're still plugging away and we'll figure it out."
He wants to fight, that's for sure. Although he admits to thinking more about family and the goings on of his farm lately than getting back in the cage, he still feels able to compete.*
"It's all I know," he said.*
His wife, on the other hand, wants him to retire. He has, after all, been knocked out by B.J. Penn and Josh Koscheck in his previous two outings. Once considered the most dominant force in the welterweight division, Hughes' losses have kept pace with his wins, and at 38, he's facing a division filled with young lions who would love to make a name by beating him.*
"She wants me to retire from fighting so fighting doesn't retire me," Hughes said.*
That's not the way she put it, he adds. Somebody else told him that, but the point is the same. She gets worried and doesn't want to see her husband hurt. *
"And I see where she's coming from," Hughes said. "She didn't grow up like I did. She's a city girl, not rough at all. I grew up on a farm with a twin brother. We grew up beating each other up."
So she is the clear "no" vote Hughes spoke of two months ago when the question of retirement came up. Obviously, he is the "yes" vote. White, the UFC's president, is the deciding vote.*
And that vote hasn't been cast.*
White still considers Hughes to be one of the greatest fighters to ever step into the cage. The two are close; Hughes defers to him when it comes to whom and when he fights. White would consider Hughes a partner in the UFC's development, and Hughes would consider White a friend.*
A friend who hasn't called yet.*
"Dana's busy," Hughes said. "So I'll hear from Dana when he wants something."
Hughes completely expects to get a call, mind you. On the record, he doesn't believe the lack of communication means anything bad, or that perhaps a vote that he's not going to like is on the way. White has previously said he'd like Hughes to retire. Or perhaps Hughes has a fight already and he's just teasing interest for the FUEL TV audience. Whatever it is, things have just changed a lot in the past few years. As the UFC has exploded in popularity and the promotion's schedule has expanded from five shows a year to more than 30, Hughes finds it harder to connect. He's an old vet in a sea of new blood.*
"It used to be that I could walk in the UFC office and I knew everybody by their first name," he said. "And now I walk through the UFC office, and it might take me 20 minutes to walk by somebody that I know. So yeah, things have changed a lot. The UFC has grown, but that means Dana is more busy right now. There's a lot of responsibilities that Dana wants to keep ahold of that he won't turn down (and) let somebody else do them. So, Dana's busy."
And what if Dana tells him to stop fighting? What if he really doesn't know which way it's going to go?*
"If I don't fight any more, that means I get to spend more time at home," Hughes said.*
Even though that's not what he wants, Hughes admits that option is not a bad one at all. After so many years of fighting and back-to-back training camps, he would welcome the chance to spend as much time with his family as he is now. Especially now because he has to travel further to prepare for a fight. More than a year ago, he sold his interest in the gym he co-founded with longtime trainer Marc Fiore, H.I.T. Squad, and now travels to Salt Lake City to train with his old training partner Jeremy Horn or, more recently, to Hawaii to work with former opponent Penn.*
"When you get a fight coming up, I'm gone pretty much Monday through Friday," Hughes said. "I usually fly away ... because I think you get better training when you don't go home every night. So that adds up. You come back, and your kids kind of don't know who you are when you get done with the fight."
Yet Hughes still wants to fight because he loves the sport so much. Despite the rocky road of the past half-decade, he doesn't feel done. Trading stories off-camera with Sonnen, he said the moments he cherishes most are the good times he's had with his teammates and friends in this wild, wild business.*
Asked during the show whether he's staying or going, Hughes hedges. This is a subject he really cares about.*
"I'm at a crossroads between fighting another fight or retirement," he said, adding that a decision will come "soon." "I'm 38, and I keep getting older, and the fighters keep staying the same age. I wanted the fall and spring off, and now it's time to talk with DW."
Or time to pick up the phone.
'
http://mmajunkie.com/news/27913/ufcs...retirement.mma

Join Date: Mar 2010
Location: NC.
Posts: 9,815
Thanks for posting.
Pleeeeease don't turn this into another hate thread for my buddy. show some respect.
If I were Matt I would retire. he's done it all and had some moments that were right out of the movies.
I read somewhere that he wants to fight someone who's beaten him before..... I sure hope he's thinking of Hallman
---
Megaweight
Join Date: Mar 2007
Posts: 5,499
He should retire, mostly because he is now seriously getting hurt in his fights. Too many quick KO's are not good for you.

If he still feel competitive then he should enter grappling tournaments, etc because he still obviously has the drive and the want, but the new generation is faster, stronger, and more well rounded.

Hughes dominated WW until GSP came along (the second time around), he has nothing left to prove and I am sure the UFC will set him up with a Chuck type of job if he wants it.
I think if he wants to keep fighting he needs to get used to the idea that he is no longer a contender and that he needs to fight some of the lower teir WWs if he expects to win.

With that said I think he should retire. He was a great champion and has nothing else to prove.
---
Fav Fighters:
BJ
GSP
Askren
JDS
Belcher
Shogun
Fedor
Hendo
Sonnen
They should give him a rematch with Dennis Hallman.

I think it'd be competitive.
---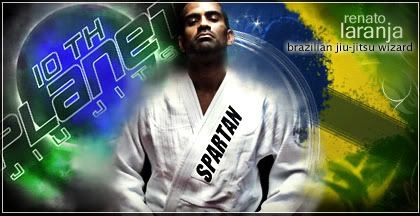 "You have a big word for a guy who don't have a gi right now." - Renato Laranja
Quote:
They should give him a rematch with Dennis Hallman.

I think it'd be competitive.
Pretty good read. Oh...that's a good one. Very good one. Can he finally avenge his losses...
BTW: Didn't Hallman go down in weight...
---
Marcus Aurelius: Tell me again, Maximus, why are we here?
Maximus: For the glory of the
Empire, sire.
Baked, not fried... the healthy choice.
Join Date: Jun 2009
Posts: 20,897
He lost to Hallman twice and the longest fight between them was 20 seconds. Hopefully he would fair better in a 3rd match.
They should give him Hardy. Dan has been running his mouth about Hughes and Hughes deserves the chance to go out with a classic win (probably by submission but maybe TKO on the ground), while also knocking Hardy out of the UFC.
Don't care for Hughes personally, but his legacy and fight ability/career is up there with all the greats, the man is a legend and I back him on any decision he wants - he's done enough for the sport and in the sport to earn that.
MMA Fanatic
Join Date: Mar 2012
Posts: 25
I hope he fights. I would never want other people to tell me when to hang it up. Everybody get so nostalgic about great pro athletes. Yes, Matt was amazing. Yes, he's not what he was. But if the guy still has the urge to do it, who am I to say, "Nah, you shouldn't do that because I only want to remember you one way." Personally, I'd like to go kicking and screaming.

Think about it from Hughes's perspective: He's 38, and compared to the rest of the population, he's damn near Superman. So he's supposed to just stop doing what he loves at 38? And you can say, "Well, he can just train, now. That will keep him close to the sport." But anybody that's ever done that knows, it's not the same. It's rewarding, but it's not being in there and getting after it.

Keep fighting till you can't or you don't want to anymore, Matt.
Currently Active Users Viewing This Thread: 1

(0 members and 1 guests)
Posting Rules

You may post new threads

You may post replies

You may not post attachments

You may not edit your posts

---

HTML code is Off

---