MMA Fanatic
Join Date: Mar 2012
Posts: 19
I am so happy now that they did this surprise test. Hopefully they do more tests like this and don't have a pattern to throw off these would be cheaters.

As much as I am gutted this fight isn't happening anymore, I am estatic they caught him.
---
1. BJ "The Prodigy" Penn
2. Dan "Hollywood" Henderson
3. George "Rush" St Pierre
Overeem.. Jesus.. Come on man.
---
If a law is unjust, a man is not only right to disobey it, he is obligated to do so. ~ Thomas Jefferson
Sig by D.P.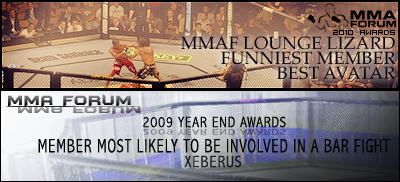 Join Date: Apr 2010
Location: Gods country
Posts: 4,524
Shocking!
A man who as an adult fought at 205lbs. A few years later he has to cut weight to make the 265lb limit.
I am aware most professional athletes are using anabolic steroids. It absolutely foolish to believe otherwise. What I do expect is for those professional athletes is to have their levels in-check come testing time. That is the only unprofessional act in my opinion, since I expect fighters to be on them in the first place.
I don't care what the fighters do, I just want to watch entertaining fights. And I was excited to watch Overeem vs JDS. For that, and that alone, I am disappointed.
At this day and age no one should be failing drug test anymore. Just get a prescription for TRT and be done with it.

Even if you come back higher than normal you can blame the doctor and the government.
Featherweight
Join Date: Aug 2009
Posts: 1,297
Overeem needs to forge a TRT prescription/doctor recommendation
MMA Fanatic
Join Date: Mar 2012
Posts: 19
Overeem Evolution with no drug test:
The TRT excuse wont help him here. He had a heightened Epitestosterone level which doesn't happen when you undergo TRT therapy.

He was most likely juicing and trying to hide it. Shame on you Reem.
It's already been said in this thread but anyone surprised by Overeem testing positive hasn't been paying attention to his massive size change. This is not surprising in the least bit but sucks this fight won't happen as it would have been a great one to see.
---
Currently Active Users Viewing This Thread: 1

(0 members and 1 guests)
Posting Rules

You may post new threads

You may post replies

You may not post attachments

You may not edit your posts

---

HTML code is Off

---