If Rashad loses...
---
Where do you see him going from there? It's not often we see fighters work their way up through a division for a THIRD time, but I don't think I see him retiring this early in his career.

To me, if Evans loses, and I do say if, I see it as a mixed blessing. I tend to believe he could do very well for himself at MW. And I've personally wanted to see him there for some time. He'd stack up well against the rest of the division, imo.

Retirement? Dream fights. Title chase at MW?
Tbh I respect Rashad, the UFC top brass haven't exactly been kind to him and they haven't really disguised the fact they want Bones to win here. He has had many opportunities to pack it in and give up before now and hasnt so I don't see him doing it if he loses this fight. He'll keep on fighting knowing that he can beat 95% of the 205lbers in the UFC.
---
Join Date: Jun 2009
Posts: 20,898
Would love to see him go down to MW. I think he would be top 3 and possibly the champ. His explosive wrestling and speed would without a doubt cause huge problems for Silva. And if Sonnen were champ, I think Rashad would dominate.
I think he drops down, I don't think he wants anything of Henderson/Ruas and those are the only fights left at 205 for him. I think the writing is on the wall for a Middleweight run, especially with Anderson Silva likely retiring this year or next year.
I'd like to see him drop to 185 and make a run for the title.
---
If a law is unjust, a man is not only right to disobey it, he is obligated to do so. ~ Thomas Jefferson
Sig by D.P.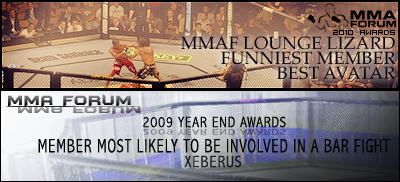 Depends on how he loses.

I mean, if it's a very competitive/close fight, and he loses via any kind of a decision, he will likely feel he's learned enough to stand a better chance of victory in a re-match.
Same thing if it's close for four rounds and he gets caught in a sub.

If he gets blasted out of there in a couple of rounds, it's entirely possible he reconsiders his career path in terms of weight class.

IMO, it all comes down to how Rashad feels, and what he thinks he's learned from this fight.

.
I can see him staying at 205 just because but I wouldn't mind seeing him drop to 185. I think he'd be beast (well, more beast than he already is) against smaller guys.
Drop down to MW if he seeks a title shot.

I do not think he is quite at "dream fight" status.

I do agree that if he loses a competitive decision he could work his way back up to a re-match with Jones or a shot at whover has the title.
---
Fav Fighters:
BJ
GSP
Askren
JDS
Belcher
Shogun
Fedor
Hendo
Sonnen
Join Date: Jun 2009
Posts: 20,898
I really think Rashad would be a dominant champion at 185.
Quote:
I'd like to see him drop to 185 and make a run for the title.
Same here. The whole thing with Jones, it's not like their fighting even for the title. Everything is about the beef.
Currently Active Users Viewing This Thread: 1

(0 members and 1 guests)
Posting Rules

You may post new threads

You may post replies

You may not post attachments

You may not edit your posts

---

HTML code is Off

---