Bonnar Calls out Griffin, Weighs in on Overeem - Inside MMA
---
---
""I have decided to retire young, Thanks for the cheese, Catch ya's later" -Mike Goldberg
I do think Bonnar ought to be Griffin's retirement fight, and not Tito.

I actually think Bonnar could beat Griffin today.
I like Bonnar and would like to see their third fight. It might not really be relevent, but neither is Tito/griffin and people actually want to see this fight.
Also Bonnar.. You won't block any what?
---
If a law is unjust, a man is not only right to disobey it, he is obligated to do so. ~ Thomas Jefferson
Sig by D.P.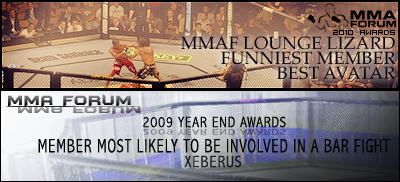 Bantamweight
Join Date: Jul 2010
Posts: 769
Bonnar whipes the floor with Griffin and i want to see that
I still think he won the first fight. Id like to see Griffin vs Bonnar 3 but I got Forrest winning it again.
---
Member of the Anti-Fitching Society. Stop Fitching and Fitchery in MMA now!
-------FREE CHARLIE Z-------
FFL
'Roudy' Ronda Rousey, Fabricio Werdum, Vyacheslav Vasilevsky, Eric Koch, Alexander Sarnovsky
Quote:
Bonnar vs Griffin as TUF coaches
---
BJ The Prodigy Penn
Alexander The Mauler Gustafsson
Cain Brock Smasher Velasquez
Anthony Rumble Johnson

2014 NPFFL Champ
Featherweight
Join Date: Apr 2012
Posts: 1,444
Those two would be entertaining playing checkers against each other. I'd definitely prefer that over Tito.
Definitely prefer Bonnar/Griffin over Tito/Griffin. Tito needs hang it up already. I'd like to see Bonnar and Griffin coach the next season and then retire after their final fight.
Light Heavyweight
Join Date: Nov 2008
Location: NC
Posts: 3,059
I actually laughed pretty hard at his dbol comment.

Those two as coaches would be awesome. Then fight and have them both retire.

Then they should both get a full time contract for an MMA sit down show on FX. Their recent video together was excellent.
---
Attero Dominatus.
Currently Active Users Viewing This Thread: 1

(0 members and 1 guests)
Posting Rules

You may post new threads

You may post replies

You may not post attachments

You may not edit your posts

---

HTML code is Off

---