Join Date: Jun 2009
Posts: 20,898
Johny Hendricks promises fun fight at UFC on FOX 3, hopes title shot follows
---
Quote:
As a four-time All-American competitor at Oklahoma State University, UFC welterweight contender Johny Hendricks (12-1 MMA, 7-1 UFC) will likely always be considered a wrestler.

But with two "Knockout of the Night" performances in his past three fights, Hendricks is anything but a lay-and-pray stylist.

As he prepares to meet perennial contender Josh Koscheck (17-5 MMA, 15-5 UFC) on the main card of UFC on FOX 3, Hendricks promises to put on another crowd-pleasing performance – one that he hopes will get him closer to a shot at the title.

"You're not going to see just another boring wrestling match," Hendricks said on a recent media call promoting the May 5 event, which takes place at New jersey's IZOD Center. "I think it's going to be a fun one for everybody to watch, so I can't wait."

Koscheck, of course, is no slouch in the wrestling department either, also earning four-time All-American status while competing for Edinboro. But the 34-year-old has also morphed into a bit of a striker, with "Knockout of the Night" wins over Matt Hughes and Yoshiyuki Yoshida earning spots on his career highlight reel.

With the similar development patterns, Hendricks expects an entertaining matchup.

"I would say probably I think this fight's actually pretty even because we're both complete fighters," Hendricks said. "We both like to hit people in the face, but I believe that it's going to be a little bit of everywhere because the later you go in the rounds the easier it is to get takedowns and stuff like that."

Hendricks took a big step up this past December, notching a 12-second knockout of Jon Fitch. Koscheck is every bit as durable, and he's generally considered more dangerous on the feet than his longtime American Kickboxing Academy teammate.

The once-beaten Hendricks, who is brimming with confidence, knows exactly what to expect. He also hopes this is the fight that finally proves he belongs among the elite in the 170-pound division.

"He's a tough opponent," Hendricks said. "You don't stay No. 2 or No. 3 in the world for as many years as he's been without being a tough fighter, and that's why I got into the division – to see if I have what it takes to compete with these guys."

It was a banner year for Hendricks in 2011, and an impressive performance on network TV could start him down a championship road in 2012. There is the matter of an interim belt to deal with at some point, and Jake Ellenberger has been on a bit of a tear, as well. But back-to-back wins over Fitch and Koscheck would put Hendricks in rarified company.

So when, exactly, does he hope to challenge for a belt?

"Hopefully soon," Hendricks said. "Hopefully soon."

Hendricks vs. Koscheck is one of four UFC on FOX 3 main-card bouts to air on FOX. Preliminary bouts air on FUEL TV.
http://mmajunkie.com/news/28454/wres...ot-follows.mma
Lightweight
Join Date: Nov 2006
Posts: 1,916
If he wins he should be in line for a title shot after Condit (or immediately against Condit if GSP is going to be out long enough). It has to be him or Ellenberger.
If he wins, he should be called the most apocalyptic fighter
---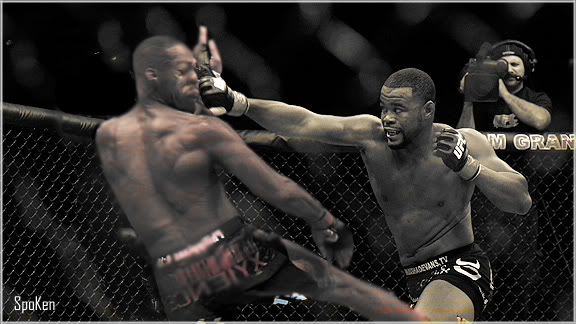 Sweet sig by Life B EZ
I feel like I get paid way to much money, but not enough -Nick Diaz
If he knocks out Koscheck and Fitch in succession then it'd be pretty hard to deny him a shot.

The only thing is, Ellenberger fights Kampmann in the summer, Condit doesn't fight GSP till November at the earliest. Do people expect Ellenberger, Kampmann, or Hendricks to really sit out that long? We'll get the winner of this fight against the winner of that fight and in two fights 170 will be cleaned out, again.
---
2013 VIP FFL Champion
THE DRAGON RIDES AGAIN - 12/20/14
Machida - Alves - Cruz - JDS - Weidman - Condit - Pettis - Edgar - Cowboy - Dodson - Okami
I don't think I can ever like Koscheck, but that doesn't stop me from watching him fight...lolz! I enjoy seeing his mug face getting beaten down.

Two for two...
---
Marcus Aurelius: Tell me again, Maximus, why are we here?
Maximus: For the glory of the
Empire, sire.
Baked, not fried... the healthy choice.
Currently Active Users Viewing This Thread: 1

(0 members and 1 guests)
Posting Rules

You may post new threads

You may post replies

You may not post attachments

You may not edit your posts

---

HTML code is Off

---