MMA Fanatic
Join Date: Jul 2006
Posts: 74
Do you think there should be another ORTIZ SHAMROCK fight?
---
Are you convinced with the last fight they had? sure, TITO got shamrock with nice elbows but the fight ended prematurely. I'd like to see them go to war one more time, that or knock each other out!

Herb Dean did his job. He saw Shamrock dazed and out for a while eating 5 consecutive elbows so I think the stoppage was fair but wouldn't you want to see them fight again for the last time? your thoughts....
Shamrock wont be stupid enough to come back in the octagon and get beat again. im pretty sure he is gonna retire
That depends on how contentious he believes the decision was. He might wish to avenge that.
Megaweight

Join Date: Apr 2006
Location: Everett, MA
Posts: 5,961
i really hope they arent gonna fight again..tito is back and hes gonna move on to bigger and better things
---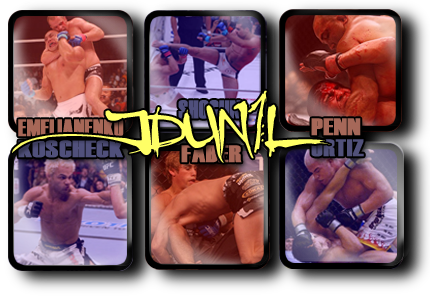 Mancrushes
1.Shogun
2.BJ
3.Fedor
4.Kos
5.GSP
Im in Porno's
Shamrock got beat up the first time. The second time he couldn't even put up a fight. Third time.....Herb wouldn't be able to stop the fight in time and Ken would become at least a vegatable for life.

Good Job Herb!!!! You saved the life of a hall of famer!
You all know Tito could have kept going with those elbows. Could have called it at 7, 8 , 9 ,10 or 11 but he called it at 5.


MUCH RESPECT TO SHAMROCK FOR EVEN FIGHTING STILL AT HIS AGE

Not much of a fight to take on an old man though. They will never fight again and t hats a fact....Jack
MMA Fanatic
Join Date: Jun 2006
Posts: 52
no, I think Shamrock should hang it up, he just cannot be good competition for the younger generation. He does not have the skills he once did (look at the Rich Franklin fight). I respect all he did for the sport and think he was an awesome fighter but his time has past, just my opinion.
Currently Active Users Viewing This Thread: 1

(0 members and 1 guests)
Posting Rules

You may post new threads

You may post replies

You may not post attachments

You may not edit your posts

---

HTML code is Off

---