There would have been a rematch with Diaz had Diaz not tested positive.

But yes, I don't really know why they bother with an interim title.. I guess if GSP just decides to retire, or is going to be out another 10 months, they would just strip him of the title and Condit will get it.
---
D. Cerrone | R. Souza | F. Werdum | R. MacDonald | M. McDonald | D. Maia | J. Mein | C. Condit
M. Coenen | S. Kaufman | A. Davis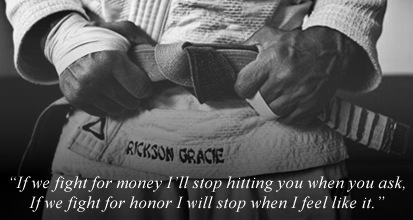 Interim title is a joke right now. Just because Nick Diaz is suspended and GSP in injured doesn't mean the entire WW division should be on hold. They have plenty of fighters in that division to challenge Condit.
---
You forget that this isn't just some brutal sport where everyones out to kill each other. Its much more like a game of physical chess.-looney liam
Bantamweight
Join Date: Jan 2011
Posts: 926
I agree that the purpose of the Interim Champion is to stay active and that Condit should not wait for GSP and defend the Title at least once, its starting to make him look bad.

They should force Condit to fight instead of waiting around for GSP to come back.
---
Last edited by Buakaw_GSP; 05-07-2012 at

04:47 PM

.
I think it a great way to show who the number 2 in the division is and give up and coming contenders a sight to focus on and structure to the division while the champ is out but at the end of the day its still basically a hot seat for who gets to fight gsp first.

I mean without it you would just have guys fighting random guy and I think a slight confusion sot where everybody sits in the division as if that wasn't hard enough in the WW division anyway.
Join Date: Jun 2009
Posts: 20,849
The interim champ is just the #1 contender as others have said. And it sounds better to have a title on the card.
---
Bantamweight
Join Date: Sep 2011
Posts: 561
Quote:
The WW scene is a mess right now. I feel as if GSP should have been stripped of the belt after the 2nd injury which would have meant that Condit would be the real champ right now. Only problem is that even Carlos himself wouldn't feel as the actual champ as long as he'd fight GSP.

Still don't know why they gave him the interim belt, it has exactly 0 value.
disagree with that. No champion should be stripped due to injury (unless it's career ending), unless he gets an immediate rematch as soon as he recovers, but even then that doesn't sit right with me.
GSP has worked tremendously hard to get to where he is, and to take away his belt because of an injury is just wrong.
The more logical solution is that the interim champion shouldn't be allowed to wait for over half a year to fight the injured champion. Joe Silva and Dana should be telling Condit that you are fighting so-and-so at this event, end of discussion. The interim belt is meant to keep the division alive -- meaning GSP will fight whoever is the "2nd best" when he gets healthy. By Condit waiting he's just stalling the division -- he should be stripped of his imaginary belt, and not GSP of his real belt that he has busted his ass off to obtain, and also defended multiple times against whoever the UFC put infront of him. As soon as Condit secured his shot he decided to sit on the sidelines. Did he deserve that right? Maybe (that's arguable), but it doesn't seem like the classiest thing to do. If you think you're deserving of fighting the champion when he gets healthy, then defend that right.
It's a shame, because I like Condit a lot, but I wish he would just step up and defend his belt. Even if he lost an interim title defense he'd probably be 2nd in line against GSP - he's definitely earned his shot, it's just disappointing to see the top two WW fighters not fight for so long.
---
Last edited by RedRocket44; 05-07-2012 at

06:27 PM

.
Just echoing the sentiments in this thread.

The whole 'interim belt' thing is a load of crap, it really is. The whole purpose is to keep the division moving when a champ is out for an extended time.

If you're an 'interim title holder', you in no way, shape or form should have a choice in waiting for the champ. You're not the champ, you didn't earn that right so fight.

Stuff like this just makes my blood boil, really. GSP is going to come back and dismantle Condit and then everyone else. We should see the Condit/Diaz rematch (if Nick comes back) or something involving Kampman, Ellenberger, Hendricks.
---
R.I.P. PRIDE FC

Fedor-Shogun-Overeem-Cro Cop-Silva-Gomi-Henderson-Jackson

2014 NPFFL

Jon Jones . Travis Browne . Demian Maia. Cain Velasquez. Fabricio Werdum
Colossal-weight
Join Date: Jan 2010
Posts: 9,844
Quote:
I hate the belt, it doesn't mean anything, its a piece of scrap metal for all I care. You either strip the champion of his belt, or you leave this whole business alone.

The hilarious part about Condit winning the interim belt, is that he had this speech at the end, that he worked very hard to win a belt, and went on about on the belt, like he just won the real belt.
Agreed.
Interim titles are cheesy.
There is no use for them besides it providing false hype because it is for belt that isn't even real.
I don't get how a fake title keeps a division going? So if there is no fake made up belt the division all of a sudden stops? Why?
I also don't get how people can say well if GSP for example decided to retire they would have a champ. No they wouldn't. Condit never beat the cham. Hell he hasn't even fought him. So how would that make him the champ? I would figure they would put 2 of the top contenders together and declare it for the vacant championship. Some guy who is said to be the 2nd best shouldn't just automatically be champ. Hendricks beat Fitch and Kos last 2 fights...why wouldn't he be called the champ if GSP retired today?
Makes no sense.
---
Last edited by jonnyg4508; 05-07-2012 at

08:15 PM

.
Currently Active Users Viewing This Thread: 1

(0 members and 1 guests)
Posting Rules

You may post new threads

You may post replies

You may not post attachments

You may not edit your posts

---

HTML code is Off

---