View Poll Results

: Do you agree with Bigfoot's mgr on this one... ban elbow strikes on the ground?

Yes
11
15.49%
No
60
84.51%
Voters: 71. You may not vote on this poll
Bigfoot Silva's manager wants ban on ground elbows following UFC 146 bloodbath
---
My question is, "what if" Big Foot won with elbows.
If you tuned into this past weekend's (May 26, 2012) UFC 146 event in Las Vegas, Nevada, you witnessed one of the bloodiest mixed martial arts (MMA) fights in recent memory thanks to the razor sharp and accurately placed elbows of former Ultimate Fighting Championship (UFC) Heavyweight champion Cain Velasquez.
Right onto Antonio Silva's face.
Early in the opening round, Velasquez blasted "Bigfoot" with an elbow that split the bridge of his nose wide open, causing a profuse spilling of his blood. After referee Josh Rosenthal stopped the bout for a doctor's examination, the fight continued -- only to have Cain continue his relentless ground-and-pound on the giant heavyweight.
With blood pouring out of the nose of Silva like a busted faucet and blood trickling into his eyes, Cain wailed away until (thankfully) the bout was called to an end at the three and a half minute mark of the opening frame in favor of Velasquez.
After it was all said and done, the Octagon's canvas was painted blood red and Silva's face looked like something straight out of a horror movie.
Now, Alex Davis, manager of Silva, says that he wants all elbows on the ground to be banned due to the bloody mess they can cause and because of that, it may turn some people away from the sport.
Check out Davis' comments which he posted on The Underground after the jump.
"Just got back to Brazil, was in the air, and only now found out about the uproar my comments on MMAJunkie Radio created, so I would like to clarify: I have seen way worse cuts then the one Cain inflicted on Bigfoot. The problem with this particular cut was not the size or anything, but the profuse bleeding into Bigfoot's eyes. This is not an excuse, it is a fact. I am not here saying that wasn't for the cut , Bigfoot would have won, nor I am making an excuse. What I am saying, again, is a fact. Had not been the cut, the fight most probably would have gone on, who knows what the outcome might have been, maybe Cain would have won anyways, maybe not. I also think that elbows on the ground should not be allowed. For the most part, they cause cuts, which are different then Kos, Tkos or Subs. They also tend to make a bloody mess, sometimes from relatively minor damage, and this does not help MMA as it tends to alienate many people to the sport. I didn't mean in no way to diminish Cain's victory, or make an excuse for Bigfoot's defeat, but simply state a fact that myself, and anyone else who watched the fight, witnessed."
In any contact sport, especially fighting, whether it be boxing or MMA, blood will be part of the game.
Whether it comes from an elbow, a punch or a knee, the human face isn't designed to take those kinds of hits without causing some kind of damage or cut which will eventually cause some bleeding.
It is inevitable and regardless of how good the assigned cut men may be, the blood will eventually find its way out again. Cain Velasquez doesn't have a problem with all the blood, but it's obvious Davis does.
Do you agree with the comments of Davis? Should elbows on the ground be banned from MMA? Do they do more harm than good as far as what will appeal to the eyes of new fans to the sport? Or should have the referee or ring side doctor stopped the fight sooner?
Opinions, please.
http://bleacherreport.com/tb/d7DgA?u...m_campaign=mma
---
Marcus Aurelius: Tell me again, Maximus, why are we here?
Maximus: For the glory of the
Empire, sire.
Baked, not fried... the healthy choice.
Elbows don't cause KO's?
He'll get over it.
---
2013 VIP FFL Champion
THE DRAGON RIDES AGAIN - 12/20/14
Machida - Alves - Cruz - JDS - Weidman - Condit - Pettis - Edgar - Cowboy - Dodson - Okami
Everyone bitches about elbows until they're the guy on top.
---
D. Cerrone | R. Souza | F. Werdum | R. MacDonald | M. McDonald | D. Maia | J. Mein | C. Condit
M. Coenen | S. Kaufman | A. Davis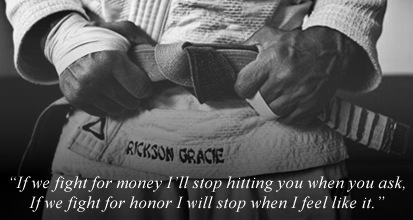 stop bitching and teach Bigfoot some better ground defence.
---

Fedor, Mir, Lytle, Serra, Hendo, Chuck, Minowaman, Maynard, Forrest, Hunt
Pickett, Cerrone, Matt Brown, Bisping, Weidman, Barnett, Lawler


I've always been an advocate of "ban elbows, allow knees" for this exact reason. Doctor stoppages don't mean anything so why risk having them? (the only reason Cain/Silva wasn't stopped because of the cut was because of that incompetent doctor who wouldn't even check Bigfoot's vision, he was obviously blinded by his own blood)
---
Rookie Hammer Squad 2015
Frankie Edgar - Dominick Cruz - Jorge Masvidal - Cat Zingano - Holly Holm
I see his point but its the same thing as head kicks or punches to the body. Any strike can end a fight even if its just a glancing blow. You cant condem something that your fighter would have done given the opportunity.
---
I-ya,
I against I,
flesh of my flesh,
and mind of my mind,
two of a kind but one won't survive,
my images reflect in the enemies eye,
and his images reflect in mine the same time
MosDef " I against I"
Don't forget elbows are the perfect foil to BJJ wrist control. Hahah...you can't punch me...it's all good...I'll just smash you with elbows. Without elbows there would be a LOT more lay n pray and that wouldn't be very fun now would it. No me gusto!
---
Marcus Aurelius: Tell me again, Maximus, why are we here?
Maximus: For the glory of the
Empire, sire.
Baked, not fried... the healthy choice.
Amateur
Join Date: Aug 2007
Posts: 155
cuts happen. they happen in boxing all the time..it's unfortunate but hey, the way I look at it you are free to defend against them. Not that MMA is necessarily supposed to mimic real fighting situations, but getting cut and blinded by blood is fairly rare and if it actually happens the guy with the elbow deserves some credit.

as for people who don't like blood, then you can turn away and come back for a cleaner fight! seeing Mir getting held down and smashed by Brock was more gruesome to watch than the Cain fight imo.
I'm in disagreement. Most fighters know the rules now and use their skillset to fight within the rules. Cain did nothing wrong by throwing the elbow and it paid off for him. He might just be trying to make his guy feel better but I doubt that the result would have been very different regardless.
---
Check out the new MMA Forum app for the Android
I don't know about some of you but I sort of prefer blood over KO's. I mean if it wasn't for blood how would we not know Diego Sanchez is the type of SOB that will fight with his face hanging off his skull.
Currently Active Users Viewing This Thread: 1

(0 members and 1 guests)
Posting Rules

You may post new threads

You may post replies

You may not post attachments

You may not edit your posts

---

HTML code is Off

---