Featherweight
Join Date: Aug 2009
Posts: 1,297
Rampage, Shogun, Mayhem, I think are the best nicknames since they really stuck and aren't their real names. They don't sound over the top either, they're good nicknames because of that. You don't feel like a dork calling them by that name is what I mean. If I called Lyoto Machida "The Dragon" in front of anyone I'd feel like a dork.
I wonder why Todd Duffee isn't called "Duffman"?
he kinda reminds me of him too....
---

Fedor, Mir, Lytle, Serra, Hendo, Chuck, Minowaman, Maynard, Forrest, Hunt
Pickett, Cerrone, Matt Brown, Bisping, Weidman, Barnett, Lawler


My top three are:

1.Rampage
2.Shogun
3. The ice man
Shogun, Rampage and Mayhem are all legendary since they replaced their names.

But outside of them, Bruce Leroy is just freakin awesome.
---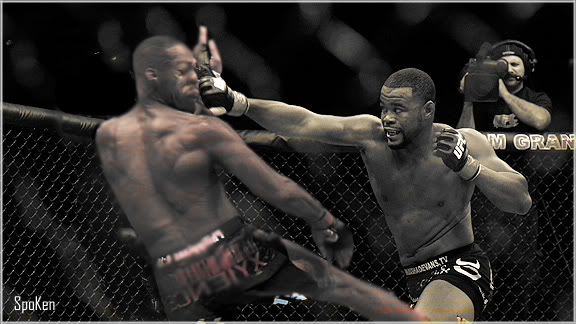 Sweet sig by Life B EZ
I feel like I get paid way to much money, but not enough -Nick Diaz
As others said, anything that replaces their name, that's straight up badass.

The Last Emperor comes in after that.
If you need a good laugh, replace Ryan Bader's "Darth" with "The Master"... then annouce the name in your head with Buffer's voice... awesome!

My actual top:
The Dragon
Rush
The Prodigy
The Crippler
MMA Fanatic
Join Date: Mar 2008
Location: norco, ca
Posts: 5
I really wish it was,

Diego "Dirty" Sanchez!
Amateur
Join Date: May 2009
Posts: 189
Mike "the terribly boring" Pierce
goddamn wrestlers at WW.... I always get Pierce and Story mixed up... and then there's Brenneman and Hendricks.
---

Fedor, Mir, Lytle, Serra, Hendo, Chuck, Minowaman, Maynard, Forrest, Hunt
Pickett, Cerrone, Matt Brown, Bisping, Weidman, Barnett, Lawler


Man I wish Ryan Bader would switch nickname from Darth to Master. Get it? it would be so much more lulz worthy.

Ryan Master-Bader =P
---
Currently Active Users Viewing This Thread: 1

(0 members and 1 guests)
Posting Rules

You may post new threads

You may post replies

You may not post attachments

You may not edit your posts

---

HTML code is Off

---