Fights to make following FX4 and UFC 147
---
Franklin - Okami/Palhares winner
Wandy - Hang em up
Maynard - Pettis (For a shot)
Guida - Lauzon/Etim winner
Ronny Jason - Daniel Pineda
Pepey - Zhang
Mutante - Ring/McGee winner
Moraes - Fukuda
Ebersole - Ellenberger at WW, Miller at LW
Stout - Varner
Lamas - Poirier
Swanson - Siver

Edit in an.ideal world I'd have Melendez fighting gray Maynard that fight would be sick.
---
I wouldn't mind seeing Franklin v Bisping.
---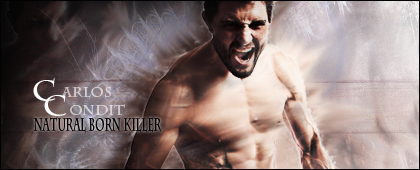 2012 FFL WINNER
CPL RECORDS
UFC 56-32-3 Strikeforce 10-4
Flyweight
Join Date: Jan 2011
Location: United States of Essex
Posts: 484
UFC on FX 4
Dustin Pague vs Walel Watson
Ken Stone vs Roland Delorme
Dan Miller vs Charlie Brenneman
Matt Brown vs Claude Patrick
Nick Catone vs Justin Edwards
Chris Camozzi vs John Maguire
Steve Siler vs Daniel Pineda
Joey Gambino vs Tommy Hayden
Rick Story vs Dong Hyun Kim
Brock Jardine vs Carlos Rocha
Ramsey Nijem vs Paul Taylor
CJ Keith vs Al Iquinta
Ricardo Lamas vs Jimy Hettes
Hatsu Hioki vs Dustin Poirier
Ross Pearson vs Diego Nunes
Cub Swanson vs Dennis Siver
TJ Waldburger vs John Hathaway
Brian Ebersole vs Jim Miller
Sam Stout vs Michael Johnson
Clay Guida vs Hallman/Tavares winner
Gray Maynard vs Anthony Pettis

UFC 147
Felipe Arantes vs Milton Viera 2
Marcos Vina vs Pat Schilling
Bodao vs Clifford Starks
Hugo Viana vs Johnny Bedford - Should he drop to 135
Massaranduba vs Rafael Natal is he stays at MW, Mark Scanlon if he drops to WW or Carlo Prater if he goes to LW (All 3 are legit weights are legit possibilities for him.)
Rodrigo Damm vs Leonard Garcia
Hacran Dias vs Darren Elkins
Yuri Alcantara vs Max Holloway
Mike Russow vs Brendan Schaub
Fabricio Werdum vs Frank Mir
Rony Jason vs Nik Lentz
Pepey vs Maximo Blanco
Moraes vs Brad Tavares
Cezar Mutante vs Daniel Sarafian
Wanderlei Silva vs Palhares/Okami loser
Rich Franklin vs Brian Stann
I'd like to see Clay Guida vs. The Unemployment Line.

As for the others.

Maynard/Cerrone
Franklin/Shields after he gets rid of Herman.
Werdum vs. Struve/Miocic winner
Dias vs. Siver/Yagin winner.
Lamas vs. Korean Zombie/Koch, dunno if Koch will get the title shot now since Aldo's not fighting in July.
Story/Pierce.
---
2013 VIP FFL Champion
THE DRAGON RIDES AGAIN - 12/20/14
Machida - Alves - Cruz - JDS - Weidman - Condit - Pettis - Edgar - Cowboy - Dodson - Okami
The next Brazil I'd like to see

Fabricio Werdum vs Frank Mir
Wanderlei Silva vs Vitor Belfort
Jason vs Deigo Brandeo
Cesar Mutante vs Daniel Sarafian
Wolverine vs Leonard Garcia
Pepey vs Pablo Garza
Moreas vs Tavares

Other fights

Gray Maynard vs Brian Ebersole or Dennis Hallman
Clay Guida vs Jorge Masvidal in Strikeforce
Spencer Fisher vs Massaranduba
Sam Stout vs Michael Johnson
Steve Siler vs Ed Koch
Cub Swanson vs Danny Castillo
Currently Active Users Viewing This Thread: 1

(0 members and 1 guests)
Posting Rules

You may post new threads

You may post replies

You may not post attachments

You may not edit your posts

---

HTML code is Off

---